Johnson snaps drought with Hobby Stock win
bakersfield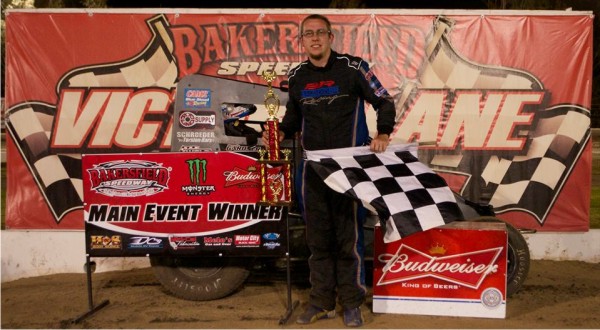 BY MIKE GRIFFITH Californian staff writer mgriffith@bakersfield.com
Steven Johnson opened the Hobby Stock season with a victory at Bakersfield Speedway and it took 14 more races before finding his way back to Victory Lane. Johnson finally got his second victory in the final points race of the season, taking the lead on the 15th lap and leading the rest of the way in the 25-lap feature on the third-mile clay oval. Joining him in Victory Lane was his brother, Chad, who won six races and the championship, but finished second on this night. "I wouldn't be able to do this without my mom and dad and everybody who helps out," Steven Johnson said. "This is a great way to finish the season." Chad Johnson had the title wrapped up before the race. "I gave Stevie crap this week, I told him I didn't know if I was going to race but then I told him I had six wins and seven sounded better," said Chad Johnson, who had won the last two races. "He said he was going to put an end to that streak and he did." Mike Bully was third, Robert Swearengin fourth and Kevin Irwin fifth. Seventy-eight year old Ralph Cooke placed sixth and finished second in points.
Points leader Ronnie Gardner took the lead with seven laps to go to win the 30-lap USAC Honda Midget feature. Gardner made the winning move by diving low in turns three and four to get past David Prickett, who had led from the outset. "He's always tough, Gardner said of Prickett. "If he gets out front he's hard to get by because he doesn't make mistakes. He was running really, really good laps." Prickett held on to finish second with Bakersfield's Sean Dodenhoff third. Trey Marcham was fourth with Shannon McQueen of Bakersfield fifth. Marcham was driving a car owned by McQueen.
Thirteen-year old Cory Elliott of Bakersfield capped his USAC Ignite Midget season in impressive fashion, winning the final race of the series as well as the series championship. "I feel great," Elliott exclaimed after climbing from his car following the 15-lap feature. Then he broke some news. "Next year I'll be racing a Sports Mod here," he said. "We're excited."
Jeff Berger, making just his second start of the year, took the lead with six laps to go en route to the Mini Stock feature victory. Josh Shepherd, who won the trophy dash and heat race, finished second in the 20-lap race. Stacy Evans was third. Berger, however, was disqualified when he drove to his pits instead of the technical inspection pad. Gary Spiller Jr. emerged with the championship and shortly after thanking those who helped him, he proposed over the public address system to his girlfriend, who accepted.
David Courtney won the 15-lap Hard Top feature. James Bradburn Jr. was second with Josh Yadon third.