Marks captures IMCA Modified main event
bakersfield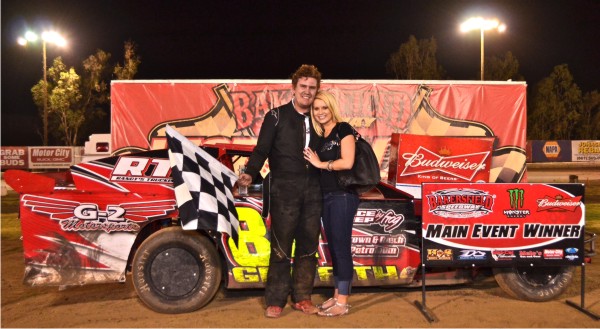 BY MIKE GRIFFITH Californian staff writer mgriffith@bakersfield.com
Jay Marks added his name to a list of IMCA Modified winners on Saturday night at Bakersfield Speedway, tightening an already close race for the championship. Marks passed Bryan Clark with five laps to go and went on to become the eighth different winner on the third-mile clay oval. While Marks was having his best night of the year, points leader and eight-time winner Brad Pounds was struggling. He lost several positions over the final few laps and finished ninth, five spots behind fourth-place finisher Larry Hood, who entered the race six points behind Pounds in the championship battle and now trails by just one heading into the finale on Sept. 28. "I think we have a good piece under us," said Hood, who had to change a flat tire two laps into the race and came from the rear of the field. "When you run all the races you're going for the championship. It's kind of neat going to the end battling Bradley." Pounds is the defending track champion. Marks, Hood and Pounds were all in Boone, Iowa, last week for the IMCA Nationals. Marks said many of the racers were worn out from the travel and several days of racing. "Wow. Just wow," he said after the win. "We didn't have time to change engines after Boone, but it looks like we have a pretty good hot rod. "I was on the fence about coming to the last race but I guess I better now." Cody Laney finished second with Justin Schweitzer third.
Gary Dutton broke away from an early battle with Lonnie Welch and went on to win the 20-lap Street Stock feature. Welch led the first lap then the two began a side-by side battle for several laps before Dutton edged ahead. "Boy, that track was rough tonight," Dutton said. "We touched a few times, I home he's not mad at me, but that track was rough." Tim Randolph finished third.
Ryan Diatte celebrated his 24th birthday in style by driving to victory in the 20-lap Dwarf Car feature. Ronnie Williams was second and Austin Figueroa third.
West Evans won the 20-lap NMRA Three-Quarter Midget feature. Chuck West was second and Kenny Wiley third.
Gavin Manning edged past Jerry Flippo and the two bumped and banged out of the final turn to win a rough Senior Mini Dwarf feature shortened to 11 laps from a scheduled 15. Flippo was second, about a foot behind. Jeremy Clark finished third.
Jakob Carey raced to victory in the Junior Mini Dwarf 12-lap feature. Chloie Jones finished second and defending track champion Kabe McClenny moved into the points lead with a third-place finish.