Quick start leads Pounds to fourth win
bakersfield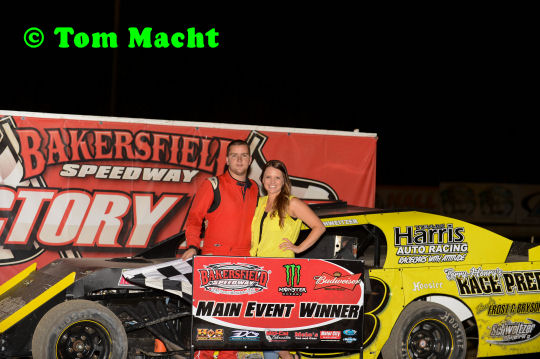 BY MIKE GRIFFITH Californian staff writer mgriffith@bakersfield.com
Brad Pounds served notice early in Saturday night's IMCA Modified feature that he was on top of his game. Pounds went from eighth to second on the first lap, took the lead on lap nine, and led the rest of the way in the 25-lap feature. The victory was this fourth this season. No other driver has more than one win. Pounds, who also won his heat race and the trophy dash, finished nearly a full straight ahead of second-place finisher Larry Hood. "We tried some things tonight and they worked," Pounds said. "It doesn't feel too fast when you're running by yourself but it feels fast in traffic." Pounds wasn't in traffic long. Streeter pulled away from the field at the start and Pounds emerged form the pack about 10 car lengths back. Pounds reeled Streeter in lap by lap and powered into the lead following a restart. Hood, who started in ninth, had to battle his way through the field and passed Street for second on lap 19. "They definitely did something to the track after the heat races and it made for some fun racing," said Hood, who has a one-point lead over Pounds in the championship series standings. Streeter, who made the trek down from Chowchilla, held on for third. "It's a lot of fun to race here," he said. "I'm leading the state points race so I needed somewhere to race. I'll be down here more often." Larry Wise finished fourth with Justin Schweitzer fifth.
Seven cautions and a race-halting red flag slowed the Sports Mod feature, but in between there was some pretty good action, including the frantic final laps. Points leader Jared Schweitzer edged past Wayne Dotson on the 24th lap, then held off Dotson on a final one-lap dash to the checkered flag after the final caution to come away with his first Sports Mod win. "It's awesome," Schweitzer said. "We try so hard and there's so many good cars. I'm just proud of the way we ran tonight." Rookie Kyle Griffith led the most laps — six through 22 — but wound up third. Dotson passed Griffith on a restart to take the lead on the 23rd lap but that turned out to be the only lap he led as Schweitzer took advantage on the next restart. David Childress finished fourth with Darrell Hood fifth.
Point leader Gary Spiller Jr. held off Doug Shepherd for his first Mini Stock feature win of the year. Shepherd got to Spiller's rear bumper in the final two laps but could get no closer. Just nine cars started the race and only three were around at the finish of the 15-lapper as attrition took a heavy toll. Jonathan Kroph finished third.
Chuck West of Clovis powered into the lead on lap eight and led the rest of the way to win the 20lap NMRA Three-Quarter Midget feature. Britt Grissom of Taft led the first seven laps and finished second. West Evans was third.