Brad Pounds Wins IMCA Modified Feature
bakersfield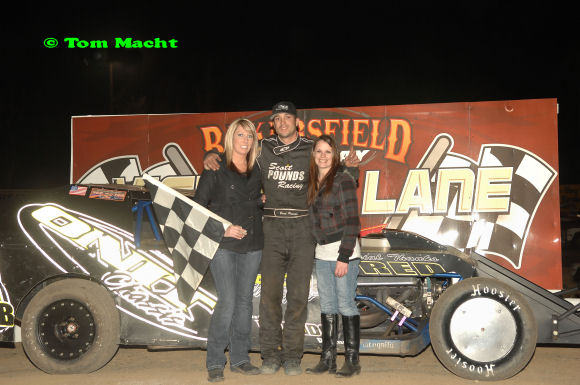 BY MATT MARTZ Special to The Californian
More than four hours and 200 laps after it began, the 2012 Bakersfield Speedway season opener came to a close as hometown favorite Brad Pounds took the checkered flag in a shortened 20-lap IMCA modified main event.
Pounds, the 2010 track champion, survived a caution-filled race after taking the lead on lap five, and held off Danny Lauer, who started on the pole.
Three-time IMCA Modified champion Gary Dutton finished third, while Robby Sawyer wrestled a fourth-place finish from Steve Smotherman, who came across the line in fifth.
"I want to thank everyone very much," Pounds said. "This was a great way to start the season with a big win tonight."
Opening night nerves were evident as 22 rumbling modifieds jumped early on the first green flag of the race, setting up a restart, which Lauer used to his advantage.
Holding his line, he jumped on the throttle and led a methanol-burning freight train screaming down the front stretch and into turn one with Pounds in hot pursuit.
The two leaders then put the hammer down, breaking way early from rest of the pack for some thrilling door-to-door racing, leaving Smotherman, Dutton and Roger Holder to battle for third.
Pounds reeled in Lauer to take over the top spot on lap five, and by lap 8, had opened up a sizeable lead until the race's first caution came out.
Pounds endured the restart, but again was put to the test as another caution with five laps remaining bunched the field.
But Lauer could not find his way around Pounds and had to settle for second.