Daly picks his way to victory
bakersfield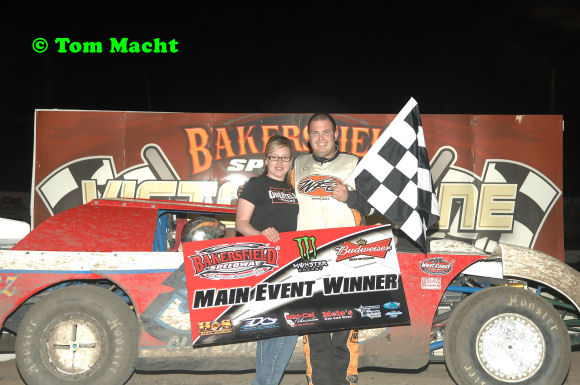 BY MIKE GRIFFITH Californian staff writer        mgriffith@bakersfield.com
Clay Daly of Watsonville used a pick to perfection Saturday night at Bakersfield Speedway.
Daly was running second to Steve Drake as the leaders rapidly closed on slower traffic with 10 laps remaining in the 30-lap Late Model feature.
Daly dove in turn four to take the lead as Drake had to slow then dart high to get past Carla Laney. Daly led the rest of the way for his first victory at the third-mile clay oval.
"It's taken me almost four years to win a race here," he said. "I've led a lot of laps here, but never got a win."
As for the winning move, Daly said "the lapped cars left me just enough room underneath and I was able to use them as a pick on Drake. It's not easy to beat Drake and (Bobby) Hogge."
Drake held off Hogge, who was breaking in a new car owned by Larry Brown of Bakersfield, to finish second. Andy Obertello was fourth and Nick Bartels fifth on a very fast track.
Mike Kirby, who set a track record at 12.995 seconds in qualifying, had his chance for victory go away when he was hit by a spinning Robert Sanders just five laps into the feature and had to restart at the rear of the field. Sanders of Bakersfield was running second when he clipped the wall coming out of turn four.
Rick Childress Jr. hasn't won every American Stock feature, but he's driven to victory in every race he's been in. Childress missed the opening night race, but has won all three since.
"I'm happier than a gopher in soft dirt," Childress said after the win.
Asked if his car would pass an impromptu check of all competitors for locked rear ends on their cars, Childress said yes.
A few minutes later Childress nosed his car into a concrete barrier, hit the throttle and began a "burnout" with the right rear tire, signifying no locked rear end. The right rear tire spun.
Childress started the 20-lap feature in 10th position and took the lead on lap 14 as Colby Quinton, who had led from the first lap on, suffered a flat tire immediately after a restart.
Traci Childress and Brent Hosfeldt finished second and third, respectively, but did not pass the on-track inspection and were being given the option to tear down their rear-end for inspection.
Clay Wattenbarger zipped past Doug Shepherd midway through the 20-lap Mini Stock feature and cruised to his second victory.
Wattenbarger started in the seventh position and was running second on the fifth lap. He chased early leader Shepherd for a couple of laps before driving low out of turn four and taking the lead as the 10th lap was completed.
"There's nothing better than racing my uncle (Shepherd)," Wattenbager said of the brief battle for the lead.
Matthew Crawford finished second, followed by Shepherd, Darren Sherman and Jolinda Naucke.
Ronnie Williams took the lead following a restart with three laps to go, then held off a counter challenge from Jonathon Henry to win the 20-lap California Dwarf Car feature.
The last of four cautions fell on the 17th lap, setting up a three-lap dash to the finish. Henry drifted high in turn four, opening the door for Williams, who powered into the lead as the cars headed down the straight.
Henry fought back on the final lap, edging ahead on the high side as the duo exited turn two. The cars were side-by-side through the final two turns but Williams got the better drive off the final turn and won by a car length.
Austen Figueroa was third with Bakersfield's Devlin Autry fourth.