De Armond victory highlights night at Speedway
bakersfield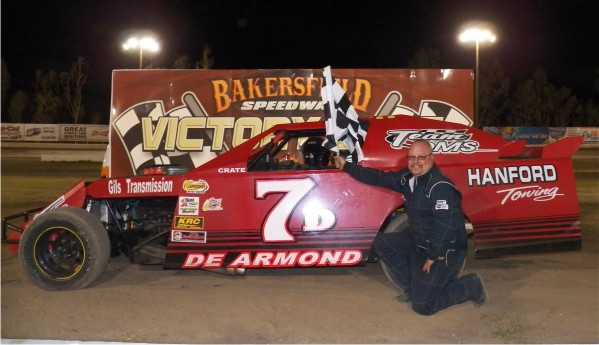 BY STEPHEN LYNCH Special to The Californian
Eighty-six cars spread out over five diverse racing divisions kicked off the holiday weekend with an exciting night of side-by-side action Saturday at Bakersfield Speedway.
Loren De Armond of Lemoore capped off the evening in style, winning the 25-lap IMCA Northern Sport Mod feature.
De Armond blew past early leader John Piker with 11 laps to go and then out-dueled Robbie Witwer of Ridgecrest to take the checkered flag following a restart with four laps left.
"It feels really good," De Armond said after his first win and top-5 of the year. "We've been running a lot better that our finishes."
Piker was shown a mechanical black flag during a lap 16 caution and finished near the back of the 20-car field. Witwer ended up as the runner-up. Darrell Hood finished in third. Mike Johnson was fourth and Geoff Menees fifth.
Earlier in the evening Witwer held off a late charge from Piker to win the division's 6-lap Trophy Dash.
"I never saw him," Witwer said of Piker, who drove hard into the final turn in attempt at a winning pass.
Justin Yadon drove his 1935 Plymouth to victory in the 20-lap Okie Bowl Hard Top A-main.
Yadon powered underneath Bob Courtney coming out of turn four with six laps remaining and then held off Matt McCaslin by half a car length at the finish.
Allen Lehtienen was third. Brad Pesheck finished fourth and Josh Yadon took fifth.
Earlier in the race Courtney used the same move Yadon put on him to take the lead, passing Justin Gonzalez, who held the point for the race's first 11 circuits.
"They have been great races all night long," Justin Tadon said." … This is an exciting time. This is a lot of fun."
Doug Shepherd dominated the 20-lap Mini Stock feature, ending Clay Wattenbarger's winning streak.
Shepherd passed Kyle Hood for the lead on lap two and never relinquished the point, holding off Wattenbarger in a green-white-checkered finish.
"I was really having to work hard tonight," Shepherd said. "Clay's a great driver."
Wattenbarger, who had won the previous three Mini Stock feature races, started in 12th and quickly picked his way up through the field to fourth place by lap seven. Not long after that division points leader was the closest challenger to Shepherd.
On the final dash to the finish Wattenbarger got bumped by another car allowing Darren Sherman to get by him for second.
Brian Daves was fourth and Ethan Dotson took fifth.
Earlier Wattenbarger followed up a win in his heat race by claiming victory in the first Mini Stock Trophy Dash of the Year.
"That was fun starting from the back and working my way to the front," Wattenbarger said after the 6-lap Trophy Dash.
Anthony Balcazar took the top spot in Senior Mini Dwarf action.
Balcazar passed early leader Omar Macies Jr. at the midway point of the 20-lap race and then pulled away for his second feature win of the year.
Making only his second start of the year, Macies Jr. led the first 10 laps after starting on the pole. Division points-leader Cameron McCauley took second, followed by Jeremy Clark and Tyler Bannister. Macies Jr. ended up finishing fifth.
Kabe McClenny continued his hot streak in the Junior Mini Dwarf division, winning a third straight A-main event.
McClenny passed Gavin Manning, who led a race-high seven laps, with five circuits remaining and then cruised to an easy victory.
McClenny who was 14th on the starting grid, worked his way up to sixth by the race's first caution on lap three.
After that he steadily gained ground on Manning, eventually passing him on the backstretch.
Kaden Cochrun was second, followed by Jake Pike, Lela Brogdon, and defending track champion Sunnie Simkins.