Decker wins USAC Midget main for Bakersfield owner McQueen
bakersfield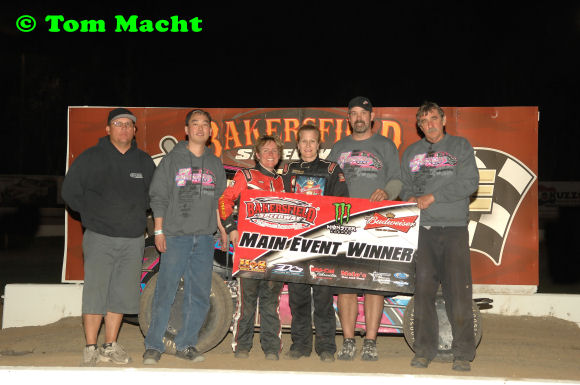 BY MIKE GRIFFITH The Californian
There was only one fast way around the Bakersfield third-mile clay oval during Saturday night's USAC Western States Midget feature.
Michele Decker of Guthrie, Okla. was there when the race started and was still there when it ended 30 laps later.
Decker, running a car owned by Shannon McQueen of Bakersfield, started on the pole and stayed glued to the bottom of the track as she powered her way to victory.
"Thanks to Shannon McQueen, I've never won a Midget race before," said Decker after receiving congratulatory hug from her car owner.
Robby Josett tried to get past Decker by going up high several times over the final few laps but could not find the traction to complete a pass.
The first 16 laps ran green but the race was slowed by three cautions and one red flag over the final 14 laps.
1osett finished second, followed by Cole Carter, Connor Krassic and David Pickett.
Rick Childress Jr. powered past Brent Hosfeldt on a restart with two laps remaining to win his second straight American Stock feature.
Hosfeldt was leading with Don Mead and Childress challenging when the race was halted after Traci Childress hit the wall in turn four and did a slow roll over with the car landing on it's wheels. Childress was no injured.
That set up a two-lap dash and before it started Mead left the track with a flat tire.
Childress stayed right with Hosfeldt on the restart and drove low into turn four to edge ahead on the 19th lap. Childress drifted bit high in turn two on the final lap and made slight contact with Hosfeldt.
Hosfeldt stayed on the high side down the backstretch and through turns tree and four but Childress held on for a one car-length victory.
"We made a little contact but I gave him the high side." Childress said. "We were both shooting for the win. We raced side-by-side throughout the race."
Dale Frye Sr. was third.
It took 32 years but Jet Davidson finally found his way to victory lane at Bakersfield Speedway.
Davidson powered past the ailing car of Cole Custer with four laps to go and went on to win the 20-lap combined feature for USAC Ford Focus and Junior Focus cars.
"It's great to be here," Davidson said. "I've been racing here 32 years. I started in Midgets in 1980 and this is my first win."
Wally Pankratz and Custer swapped the lead a couple of times in the early portion of the race before Pankratz stalled on eight lap. Cuter then took the point before his car began to misfired with six laps remaining. Two laps later, Custer was done, giing the lead to Davidson.
Parker Colsten, 13, was second with Michael Steele third.
Jeff Gibbons held off a charging Mark McCaslin to win the 15-lap Okie Bowl Hardtop feature.