Former Sprint Car champ to Race Saturday at Bakersfield Speedway
bakersfield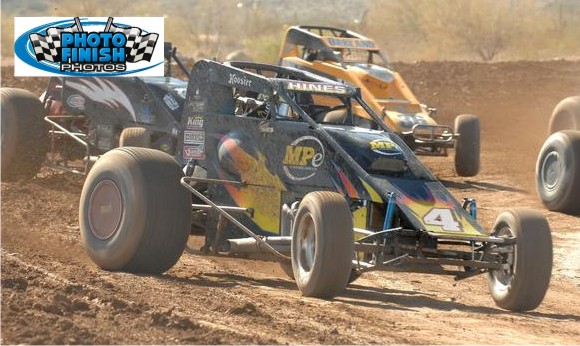 BY MIKE GRIFFITH Californian staff writer mgriffith@bakersfield.com
No doubt about it, Tracy Hines loves to race.
The former USAC Silver Crown and Sprint Car champion competes nearly 100 times a year so when Dave Calderwood suggested putting together another car for Hines to drive a few times a year, Hines was all in.
On Saturday night, Hines will be driving one of Calderwood's car in a USAC West Coast 360 Sprint Car race at Bakersfield Speedway.
Calderwood, who owns MP Environmental Services in Bakersfield, has sponsored Hines on the USAC national Sprint Car Series since 2010.
"We decided to take spare parts and a car and run it out West," Hines, of Castle, Ind., said of how the 360 ride came ro be. "We put his son's spare motor in it and it's been a pretty good combination since we've done that."
Good enough to win a race at the end of last season in Tucson and win three of six races at Canyon Speedway Park Peoria, Ariz. in late January.
"It's just another car to race," Hines, 39, said. "They're trying to build up a 360 series again in California and Arizona and we thought we'd be part of them trying to help build that series."
This will be the first time 360 Sprint Cars have competed at Bakersfield Speedway since Ricky Kirkbride won on June 19, 2010. It will be the first race in the series since the planned series opener at Tulare was rained out last week.
Hines last competed at Bakersfield Speedway in the USAC Midget Turkey Night Grand Prix races held there in the early to mid-1990s.
"A 360 Sprint Car drives like a Midget," he said. "It's got the big tires and the big right rear for grip but it drives like a Midget as far as applying power."
Which is way different from the 410 Sprint Cars.
"With the 410 you're really fighting a lot a lot trying to hook up the race car because you have so much power. Without a wing you have nothing forcing the rear tires down so you're always fighting grip."
While quite a bit tamer, Hines said the 360s are still a kick to drive.
"I like them," he said. "I'm confident we should be able to run well (at Bakersfield Speedway) and have fun."
Hines competes for championships in three USAC national series– the Silver Crown cars, the 410 Sprint Cars and Midgets. In addition, he runs about 15 local shows in another Sprint Car. He finished fourth in points last season in the Silver Crown and Sprint Car series and was fifth in the Midget series.
"There's no conflicts in the USAC series, but sometimes there are logistical issues, but you can get to all of them," he said of his arduous schedule.
Also competing on Saturday night will be Hobby Stocks, Mini Stocks and Tree-Quarter Midgets.
Racing starts at 6.