2012 Schedule Released
bakersfield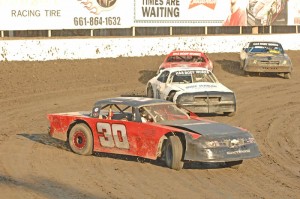 (JANUARY 3, 2012, BAKERSFIELD, CA) Bakersfield Speedway promoter Scott Schweitzer released the 2012 Bakersfield Speedway event schedule on Tuesday afternoon.  The much anticipated 2012 season, which features 33 race dates, will get under way on Saturday, March 3rd with four action packed divisions that night and it will conclude nearly eight month later after the 27th Annual Budweiser Nationals. 
The popular IMCA Modifieds will again headline the 2012 schedule with 18 points season dates.  Other Bakersfield Speedway house division including Sport Mods, Hobby, American and Mini Stocks will also see lots of action in 2012.  Also returning in the 2012 season, the fan favorite Dirt Late Models with nine appearances.  March 24th will mark the return of The West Coast 360 Sprint Car Series to the 1/3 Mile Clay Oval. In addition, USAC Midgets, USAC Focus Midgets, USAC JR Focus Midgets, West Coast Street Stock, Mini Dwarfs, NMRA ¾ Midgets, CDCRA Dwarf Cars, Okie Bowl Hard Tops and the California Lightning Sprint Cars will also join the 2012 Bakersfield Speedway season. Schweitzer is pleased with the schedule and is excited about getting the new season under way. "I'm very happy with the schedule for 2012 and the way it came together. It's a hard thing to put together and to do it with as little conflict with other race tracks" stated Schweitzer. "With the schedule in place, we can now get busy around here getting the facility and racing surface prepared for the March 3rd opener. That's important to us so we can continue to offer fun family entertainment that keeps them coming back for more."
The 2012 season is scheduled to kick off Saturday, March 3rd with the spectator gates opening at 4:30pm and racing starting at 6:00pm sharp. The speedway is located at 5001 N. Chester Ext. Bakersfield, CA. 93308. For info please contact the office at 661-393-3373 or www.bakersfieldspeedway.com
The full 2012 Bakersfield Speedway schedule is listed below.
MARCH
3 – MODIFIEDS, HOBBY STOCKS, AMERICAN STOCKS, MINI STOCKS –GRAND OPENER 2012
10- LATE MODELS, SPORT MODS, AMERICAN STOCKS, MINI DWARFS
17-MODIFIEDS, STREET STOCKS, HOBBY STOCKS, CA LIGHTNING SPRINTS
24-360 SPRINTS, HOBBY STOCKS, MINI STOCKS, NMRA
31- MODOFIEDS, SPORT MODS, AMERICAN STOCKS, MINI STOCKS, MINI DWARFS
ARPIL
7- USAC MIDGETS, FORD FOCUS, HOBBY STOCKS, AMERICAN STOCKS, HARD TOPS
14- MODIFIEDS, SPORT MODS, HOBBY STOCKS, MINI STOCKS, CA LIGHTNING SPRINTS
21-MODIFIEDS, SPORT MODS, STREET STOCKS, NMRA, MINI DWARFS
28-LATE MODELS, AMERICAN STOCKS, MINI STOCKS, CDCRA
MAY
5-MODIFIEDS, HOBBY STOCKS, AMERICAN STOCKS, MINI DWARFS
12- MODIFIEDS, SPORT MODS, STREET STOCKS, MINI STOCKS, CA LIGHTNING SPRINTS
19-LATE MODELS, HOBBY STOCKS, AMERICAN STOCKS, NMRA, MINI DWARFS
26- SPORT MODS, MINI STOCKS, MINI DWARFS, HARD TOPS, BUDWEISER KEG RACES
JUNE
2-MODIFIEDS, SPORT MODS, HOBBY STOCKS, AMERICAN STOCKS, MINI STOCKS
9- MODIFIEDS, STREET STOCKS, AMERICAN STOCKS, MINI DWARFS, CDCRA
16- LATE MODELS, HOBBY STOCKS, MINI STOCKS, MINI DWARFS,
23-MODIFIEDS, SPORT MODS, AMERICAN STOCKS, MINI STOCKS, NMRA
30-MODIFIEDS, HOBBY STOCKS, AMERICAN STOCKS – FIREWORKS SHOW
JULY
7-DARK NO RACING
14- MODIFIEDS, STREET STOCKS, AMERICAN STOCKS, MINI STOCKS, MINI DWARFS
21-LATE MODELS, SPORT MODS, HOBBY STOCKS, MINI STOCKS, NMRA
28-MODIFIEDS, SPORT MODS, AMERICAN STOCKS, MINI DWARFS, FORD FOCUS
AUGUST
4- MODIFIEDS, HOBBY STOCKS, AMERICAN STOCKS, MINI STOCKS
11- LATE MODELS, STREET STOCKS, HOBBY STOCKS, MINI STOCKS, HARD TOPS
18-MODIFIEDS, SPORT MODS, AMERICAN STOCKS, NMRA,  CDCRA
25-LATE MODELS, HOBBY STOCKS, MINI STOCKS, MINI DWARFS
SEPTEMBER
1-MODIFIEDS, SPORT MODS, HOBBY STOCKS, AMERICAN STOCKS, MINI STOCKS
8- STREET STOCKS, AMERICAN STOCKS, MINI DWARFS, NMRA,
15- MODIFIEDS, SPORT MODS, HOBBY STOCKS, MINI STOCKS, MINI DWARFS
22-USAC MIDGETS, FORD FOCUS, AMERICAN STOCKS, MINI STOCKS, HARD TOPS
29-MODIFIEDS, HOBBY STOCKS, NMRA, CA LIGHTNING SPRINTS, MINI DWARFS
OCTOBER
6-DARK NO RACING
12-BUD NATIONALS -LATE MODELS, MODIFIEDS, SPORT MODS, HOBBY STOCKS, STREET STOCKS, AMERICAN STOCKS
13-BUD NATIONALS -LATE MODELS, MODIFIEDS, SPORT MODS, HOBBY STOCKS, STREET STOCKS
20-DARK NO RACING
27-TBA