Hood wins first California Northern SportMod feature
bakersfield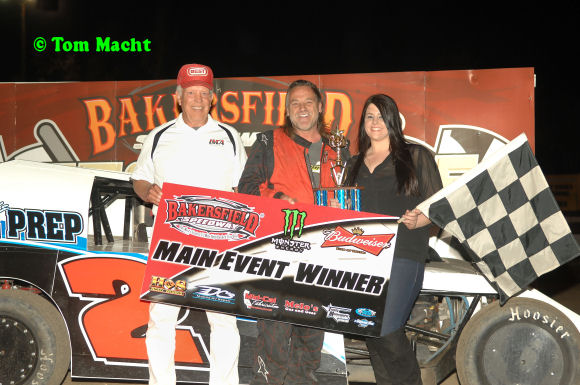 BAKERSFIELD, Calif. (March 10) – His last-lap pass made Darrell Hood the first-ever winner of a Karl Chevrolet Northern SportMod feature in California.
The white flag was out when Hood caught leader Marvin Leist for the front spot, then beat Leist in a drag race to the finish Saturday evening at his hometown Bakersfield Speedway.
"I'm really stoked about this class," said Hood, 53 years old and the father of IMCA Modified hot-shoe Larry Hood. "Driving one of these cars is a lot better than financing one of them or working on them."
"This SportMod deal is really interesting. The economics is the big deal for me," he added. "I don't know why it took so long for them to get start out here but I'm glad they did. I really think they're going to take off in California."
In a Harris ride previously piloted by Mike Joski of Green Bay, Wis., Hood drew the ninth starting spot in the field of 14. Leist raced his way to the front following a restart early in the 20-lapper while Hood worked his way up.
A restart with two circuits to go proved to be Leist's undoing as Hood ran the lower groove to take the lead and the eventual victory on the final lap.
A three-time track champion in the street stock class at Bakersfield, Hood won the SportMod feature with a crate engine that didn't require nearly the same investment money- or maintenance-wise. He pre¬dicted both factors would make the division popular for a diverse group of drivers.
"There was everybody from teenagers to old guys like me out there Saturday night," Hood said. "Nobody could just run away from everybody else. There was wheel-to-wheel racing all around the track."
His primary sponsor is Wayne Dotson at Golden Empire Towing. Hood's crew includes Terry Henry and Shawn Schweitzer.
Feature results – 1. Darrell Hood; 2. Marvin Leist; 3. Randy Schweitzer; 4. Robbie Witwer; 5. Taylor Paddock; 6. Eric Brust; 7. Kevin Johnson; 8. Nick Spainhoward; 9. Loren DeArmond; 10. Geoff Menees; 11. Cale Kanke; 12. Wayne Dotson; 13. Will Simco; 14. John Piker.