Irwin wins Hobby Stock opener at Speedway
bakersfield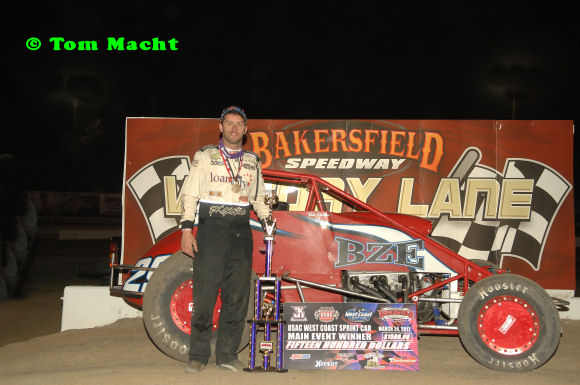 BY MIKE GRIFFITH Californian staff writer mgriffith@bakersrfield.com
It took four weeks and three tries for the Hobby Stock racers to get in their first feature race at Bakersfield Speedway.
The Hobby Stocks were first scheduled to race on opening night and did — except for the feature, which was canceled due to curfew.
Last week it was Mother Nature taking charge, washing out all racing at the third-mile clay oval.
On Saturday night, Jimmy Irwin took control, leading from start to finish to win the 25-lap feature.
Irwin started on the outside of the front row, powered ahead of defending class champion Steven Johnson on the back straight and was never challenged, despite four restarts which bunched the field.
Irwin got big advantages on each restart and finished several car-lengths ahead of second-place Garth Zander.
"I've never been one to do my restarts the same," Irwin said. "I just go when I'm ready."
Jason Nation finished third, followed by Chad Johnson and Jared Schweitzer.
Bud Kaeding of Campbell led the final three laps to win the USAC West Coast 36O Sprint Car feature.
The first 27 laps went all green, the first caution falling due to several cars spinning in turn three.
Unable to avoid the melee was Brody Roa of Buena Park, who had led from the drop of the green flag and was charging hard into the corner right behind the slower cars.
Kaeding, who was in close pursuit of Roa, was able to work past the stalled cars, which put him in the lead. Matt Mitchell of Yorba Linda finished second.
It took about an hour to run four 10-lap heat races for the Sprint Cars due in part to four flips, two of them spectacular. None of the drivers involved were injured.
Rusty Carlie of Bakersfield was the first to go airborne on the first lap of the first heat as he caught the back straight wall with his right rear tire, rolled, then went end over end a couple of times before coming to a stop along the turn three wall. Two laps later, Andrew Murray flipped in turn one,
Greg Taylor of Ventura caught a rear tire of a car driven by Terry Nichols of Delano in the third heat, shot into the air and went end-over-end three times before coming to rest in turn one. Chris Ennis of San Diego rode up the turn one wall in the fourth heat, did a slow roll and came to a stop wheels down in turn two.
Tracy Hines of New Castle, Ind., was fast qualifier in a 27-car field at 13.012 seconds. Markus Neimela, Koen Shaw, Kaeding and Matt Mitchell won heat races.
Clay Wattenbarger emerged victorious in a tedious Mini Stock feature that was cut to 12 laps from a scheduled 20. Those 12 laps were plagued by five cautions (three before a full lap was completed) and took more than 23 minutes to run.
Wattenbarger, who is a regular on the SRL Southwest Tour pavement series, only led the final lap in his dirt-track racing debut and didn't have to make a pass for the win. He inherited the lead when Doug Shepherd, who led the first 11 laps, stalled during a caution period.
Scott Black Jr. finished second with Daniel West third.