Johnson hangs on for Modifieds win at Speedway
bakersfield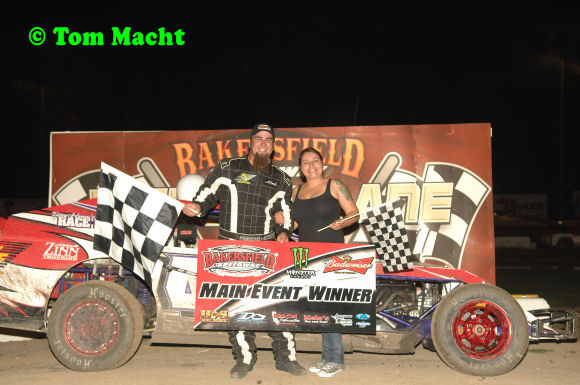 BY STEPHEN LYNCH Special to The Californian
Michael Johnson's starting position on the front row of Saturday night's 25-lap IMCA Modifieds feature at Bakersfield Speedway didn't ensure his eventual victory.
But as the Bakersfield driver admitted after the race, it certainly helped. As did Johnson's stout performance behind the wheel, holding off the challenge of Danny Lauer and Brad Pounds to claim his first-ever victory in the series.
Lauer ended up second. Pounds, who won the first IMCA main event of the season was third. Joey Claborn took fourth and Jay Marks was fifth.
"I kind of had it easy," Johnson, who led for 20 laps said. "I got to start in the front. Brad (Pounds) who is up here started 12th."
Larry Wise led early. But on lap six he went hard into turn three causing his car to bicycle up onto its two right-side tires before slamming down hard and stopping on the track. That brought out a caution as his car had to removed from the racing surface by a tow truck.
Steven Johnson came out on top after a wild finish to the 25-lap Hobby Stocks feature.
Tyler Johnson dominated early, leading the first 23 laps. But with just two laps to go, while being challenged for the lead by Chad Johnson, he got into the back of the lap car of Noah Allen. That allowed Chad Johnson to take over the point briefly as contact with Tyler Johnson caused his front right tire to go flat half a lap later.
With that Steven Johnson, who had moved into second place during Tyler Johnson's paint-exchange with Allen, inherited the lead and held onto it for the remainder of the race.
"When they got together I figured it was my time to go so I had to go," Steven Johnson said.
Tyler Johnson ended up finishing second. Clint Reichenbach was third. Garth Zander took fourth and Jared Schweitzer came home in fifth.
Tim Randolph of Santa Maria out-dueled Lonnie Welch to claim victory in the 25-lap Street Stocks A-main event.
After closely stalking Welch, the leader for the first 16 laps, Randolph made his move in turn two when the nose of Welch's car slid up track leaving an opening.
Once up front there was no catching Randolph.
Welch held on to take second. Lee Jensen was third followed by Brian Shepherd and Brady Bell.
"I have to say Lonnie and Lee both raced me so clean," Randolph said. "That's what it's all about. If we can do that lap after lap, go 25 laps without ever touching each other, that's the way to do it."
Nick Spainhoward passed John Piker for the lead just after a lap 15 restart and then held on during a wild finish to win the 20-lap Sport Mods A-main event.
Piker, the pole-sitter, led all but the opening circuit before Spainhoward powered around him on the high side in making the winning pass.
There were six cautions including one late in the race that forced Spainhoward to hold off a hard-charging Darrell Hood in a one-lap dash to the checkered flag.
The two drivers bounced off each other coming off the final turn.
"I drove it in harder than I wanted to," Spainhoward said. "I thought for sure that I was done for."
It was the second victory of the night for Spainhoward, who earlier took first in his heat race.
Taylor Paddock finished second in the A-main, followed by Hood, Robbie Witwer, and Tim Paddock.
During a scheduled break in the night's racing action all the IMCA Modified drivers went into the grandstands and passed around their racing helmets in order to raise funds for 20-month old Fresno girl Laci Atwood, who was diagnosed in February with Rhabdomyosarcoma, cancer in her left ear and temporal bone.
T-shirts with facsimiles of Laci' s handprints on them were also sold inside the speedway to help pay for her medical expenses.
Laci's dad Johnny Atwood was born in Bakersfield and spent part of his childhood living in Delano.
Laci is currently receiving chemotherapy and radiation treatment in San Francisco.
Later it was announced that 4,077 dollars were collected for Laci during the passing of the driver's helmets. In addition another $439 was collected for Abbi Courtmanche, an 11-year old girl battling GVHD leukemia that the Atwood family met while in San Francisco. Both girls were in attendance.