Toste wins Late Model feature at Speedway
bakersfield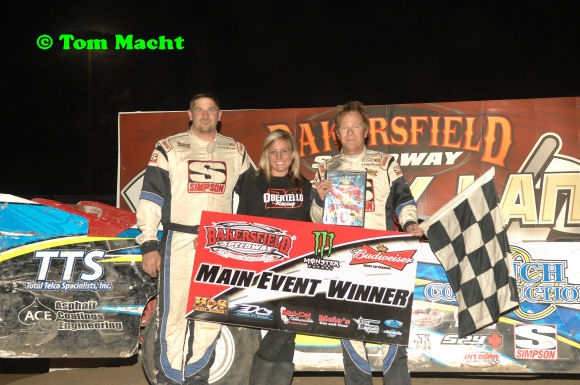 BY MIKE GRIFFITH Californian staff writer mgriffith@bakersfield.com
A half-lap lead with seven laps to go evaporated due to a caution flag, but that only delayed Tony Toste's run to victory in the Late Model main event Saturday night at Bakersfield Speedway.
Toste of Pismo Beach simply repeated what he did for the first 23 laps as he pulled away from his competition to easily win the 30-lap race on the third-mile clay oval.
"I just kept hitting my marks every lap, trying to be smooth, the track was really slick," Toste said of his 23-lap run to start the race.
The restart did result in a spirited battle for second with Andy Obertello of Hollister edging out Rob Mayea of Bend, Ore. Mayea finished just ahead of Nick Bartels of El Segundo as those three cars were separated by less than a car length. Jason Papich of Santa Maria was fifth.
Nick Bartels, Chad Reichenbach and Mike Johnson all won heat races. Robert Sanders set fast time in qualifying at 13.149 seconds.
Darrell Hood passed Marvin Leist on the final lap to win the 20-lap MCA Northern Sport Mod feature.
Leist started third, took the lead on the first lap and kept it until Hood got by on the backstretch of the final lap.
"It was a good clean race," Hood said. "This is going to be a class."
Leist ran the high groove the entire race, which forced Hood to try and make a move down low. Hood went low in turn four on the penultimate lap, edged ahead but Leist was a foot back in front at the line.
Hood stayed low through one and two, which gave him the lead when he powered on to the backstretch.
"The last one's the only one that matters, I gave her a shot," Leist said.
Randy Schweitzer finished third with Robby Witwer fourth.
The Childress family dominated the American Stock feature, finishing 1-2-3 in the 20-lap race.
Defending series champion Rick Childress Jr. passed his cousin, Traci Childress, with eight laps remaining to take the victory, Brian Childress, Rick's brother, finished second with Traci Childress finished third.
"That's how it should be," Rick Childress said of the 1-2-3 finish and being congratulated by his brother and cousin. "We all won tonight."
Traci Childress started on the pole and led the first 12 laps. Rick Childress quickly worked his way from his 12th starting position and was third by the fifth lap and second after eight laps.
Rick Childress actually passed his cousin on the 11th and 12th laps, but each time the move was negated due to a caution flag and the lineup reverted too the previous laps.
It took just one more try, Rick Childress drove low into turn one on a restart, and he had the lead for good on the 13th lap.
"The track was really racey, you could run high or low," he said."
Brian Childress moved into second on the 15th lap and got up to the bumper of his brother but could not maker a move for the win.
Matt Lewis was fourth and Justin Gonzalez fifth.
Defending division champion Sunnie Simkins passed two cars in the final half lap to win the the 12-lap feature for 5-8 year-old drivers. Race leader Riley Terry hit cones on the inside of turn one on the final lap and did a partial spin, slowing second-place Carter Enos. Simkins went high around both of them. Enos finished second with Terry third.
Joseph Snider of Westlake Village won the 9-12 year-old 15-lap race. Tony Lamas was second with Karson Sylvester third.