Warmer weather welcome sight for soggy Bakersfield Speedway
bakersfield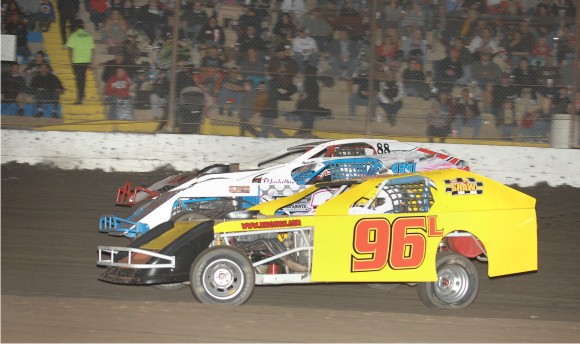 BY MIKE GRIFFITH Californian staff writer mgriffith@bakersfield.com
The heat will be on at Bakersfield Speedway, and throughout Kern County, on Saturday, which comes as a warm relief to race fans, drivers and yes, track owners.
Soaking rains last Friday forced Bakersfield Speedway owner Scott Schweitzer to cancel last Saturday night's planned races — the third time weather has derailed action over the past five weeks.
The temperature is expected to rise to 93 degrees this Saturday with not a cloud in sight.
"We're finally seeing some blue skies and the sun, it's better than all the rain we've had," said Schweitzer.
Schweitzer worked hard last week trying to get the race in and the track might have been raceable. The pits, infield and grass in the concession area, however, were quagmires.
IMCA Modifieds, Sport Mods, Street Stocks and Hobby Stocks will be in action tonight. The Mini Dwarf race has been canceled as the infield is still wet.
"The infield took the brunt because that's the only place I have to pump water," Schweitzer said. "I can't pump to the street because there are no storm drains. The infield dries pretty good but with all the rain we've had there just isn't time for it to dry enough to race on."
While the infield gets the brunt of the water when it rains at the track, the IMCA Modified drivers have taken the brunt of the rainouts as they were scheduled to compete on all three nights action was canceled.
"I ran into a couple of Modified drivers in town and they were really excited to finally get to race," Schweitzer said.
Brad Pounds won the only IMCA Modified race contested this season and Darrel Hood drove to victory in the lone Sports Mod race.
The Street Stocks make their debut tonight as planned openers at both Bakersfield Speedway and Santa Maria Speedway were canceled due to weather.
"We've had some good shows and good crowds," Schweitzer said of the four events that have taken place. "It's been a great start to the season except for the rain."
Racing starts at 6.