Another big night for Pounds at Speedway
bakersfield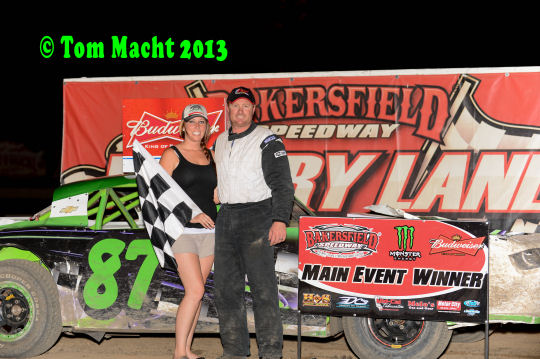 BY STEPHEN LYNCH Special to The Californian
Brad Pounds couldn't get quite enough grip on the low side to pass Robby Sawyer during the 25-lap IMCA Modified feature Saturday night at Bakersfield Speedway. So the defending track champion, nicknamed "The Dominator," moved up a groove and soon afterward found the speed to get around Sawyer for the lead en route to his fifth main event victory of the year and 91st of his career. Pounds led the race's final 14 laps after passing Sawyer, who held the point for the previous seven circuits around the third-mile clay oval. "They watered the track, trying to keep it real wet and fast," Pounds said. "I wasn't looking for it but it worked out pretty (darn) good in my favor." Points-leader Larry Hood passed Sawyer late to take second place. Danny Lauer was fourth. Cody Laney took fifth. Pounds, came into the night second in the IMCA points standings, four markers behind Hood.
Later Darrell Hood capped off the night's action by winning a caution-filled 25-lap IMCA Sports Mod main event. Hood, the defending track champion, passed Eric Manning for the lead with 20 laps to go and then held off John Piker for his second feature win of the year. "I don't know what (Terry Henry) did (to the car) but it was good," Hood said. "The track is slick out there right now." Glued to the bottom, Hood kept Piker, who was running a similar line, at bay through five restarts. Tina McGowan finished third. Jared Schweitzer was fourth and David Childress crossed the finish line in fifth. Piker got to Hood's back bumper several times in the late going but chose not to nudge the leader out of the way. "I believe if you can't do it clean, then don't do it," Piker said. He drove one heck of a race. He was fast." Piker won the Sports Mod Trophy Dash.
Ethan Dotson edged Tyler Irwin by half a car-length to claim a thrilling victory in the 20-lap American Stock feature. Irwin started on the pole and jumped out to a quick advantage, leading the entire way until Dotson powered underneath him coming out of turn four. "I want to say 'sorry,'" Dotson said. "I slid up into him a little bit but I think it was pretty good." Defending track champion and points leader Matt Lewis took third. The victory capped a perfect night for Dotson. Earlier in the evening he won his fifth heat race of the year, tying him with Don Mead for the most in the division. Dotson, who recently graduated from eighth grade, followed that up by taking first place in the American Stock Trophy Dash.
Lloyd Wren Jr. took advantage of Tina McGowan's misfortune to win the 25-lap Hobby Stock main event. Running a close second, Wren Jr. inherited the lead with five laps remaining when McGowan, who had led the entire race up to that point, was disqualified for dropping a muffler on the track. Wren, who was involved in an early-race incident that left his left front fender dented in, showed his determination to battle back for his second straight feature win and third of the year. John McKinley was second, followed by Teena Childress, Dylan Hagar and Dale Frye Sr. "It's just been hard coming," Wren Jr. said. "Tonight we had a little incident at the beginning and just had to fight back. Seems like we lost a little handling but we just made it work." Chad Johnson won the Hobby Stock Trophy Dash.