BAKERSFIELD SPEEDWAY RELEASES 2013 EVENT SCHEDULE
bakersfield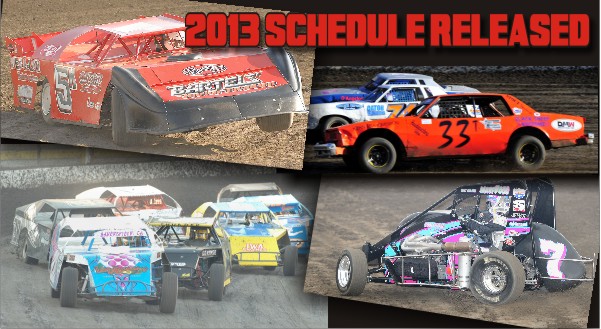 BAKERSFIELD, Ca. — The 2013 schedule for The West's Fastest 1/3 Mile High Banked Clay Oval Bakersfield Speedway has been released and includes 31 weeks of Budweiser Weekly Racing Series action. The focus for the 2013 racing season will again be on weekly racing and continuing to grow our local fan and competitor base.
The track's always competitive weekly divisions begin their race for the Budweiser Weekly Racing Series Division Championships on Saturday March 2nd and end with the final point's race of the season on Saturday September 28th.
During the 31 weeks of action the speedway will feature a similar weekly schedule that was utilized during the 2012 season with the exception of a few additions to 2013. Fans and competitors alike were thrilled with the schedule and have asked to keep it coming in 2013. "We have grown to find what our fans like to see each Saturday night and that's what I want to give them again this year" stated track owner Scott Schweitzer who just finished his 10th year of owning the historic west coast racing facility.
This year's Budweiser Weekly Racing Series division line-up will once again include the IMCA Modifieds, IMCA Northern Sport Mods, Hobby Stocks, American Stocks, Mini Stocks and Mini Dwarfs. Along with the weekly racing action the speedway will also host Late Models, 360 Sprint Cars, USAC Midgets, Ignite Focus Midgets, Super Stocks, NMRA Midgets, CA Lightning Sprints, LMods, CDCRA Dwarf Cars and the Hard Tops.
One of many special events on the 2013 schedule is the return of the Annual Make a Wish Night on Saturday June 1st. Details of that event will be released soon.
The speedway will begin its 2013 campaign with registration day February 16th in the morning then followed by the annual awards banquet the evening. The following weekend February 23rd, is open practice at the speedway giving the racers a chance to prepare for opening night 2013. Details on these events are available on the track website.
Bakersfield Speedway, an IMCA Member Track, is a 1/3-mile, high banked clay oval. The track is located at 5001 N. Chester Ext. in Bakersfield, CA. The speedway is just a short 8 mile drive east from Highway 99, sitting on the north side of the Bakersfield area.
To learn more about the Bakersfield Speedway and its 2013 schedule of events, fans may call the Speedway office at (661) 393-3373 or visit the track's web site at www.bakersfieldspeedway.com.
March
2  Modifieds, Hobby Stocks, American Stocks, Mini Stocks
9  LateModels, Sport Mods, Hobby Stocks, American Stocks
16  Modifieds, Sport Mods, Street Stocks, CLS, Mini Dwarfs
23  Sprint Cars, Hobby Stocks, American Stocks – KUZZ FM107.9 NIGHT
30  USAC Midgets, Sport Mods, Mini Stocks, NMRA – JackFM NIGHT
April
6  Modifieds, Street Stocks, Hobby Stocks, American Stocks, HARD TOPS
13  LateModels, Sport Mods, Mini Stocks, Mini Dwarfs, LMods – FREE COKE NIGHT
20  Modifieds, Hobby Stocks, American Stocks, Ford Focus, NMRA, CLS – JackFM NIGHT
27  Sprint Cars, Sport Mods, Mini Stocks, CDCRA
May
4  Modifieds, Hobby Stocks, American Stocks, Mini Dwarfs
11  Modifieds, Sport Mods, Street Stocks, Mini Stocks, CLS – KUZZ FM107.9 NIGHT
18  LateModels, Hobby Stocks, American Stocks, NMRA
25  Sport Mods "$1000 to Win", Mini Stocks, HARD TOPS, Mini Dwarfs, LMods  – JackFM NIGHT
June
1  Modifieds "$1,500 TO Win", Hobby Stocks, American Stocks, Ford Focus, Mini Dwarf – MAKE A WISH
8  Modifieds, Sport Mods, Street Stocks, Mini Stocks, CDCRA  – FREE COKE NIGHT
15  LateModels, Hobby Stocks, American Stocks, Mini Dwarfs –  1-800LoanMart Series  – JackFM NIGHT
22  Modifieds, Sport Mods, Mini Sstocks, NMRA, LMods
29  Modifieds "$1500 to Win", Street Stocks, Hobby Stocks, American Stocks – FIREWORKS – KUZZ FM107.9
July
6   DARK  NO RACING
13  Modifieds, Sport Mods, Hobby Stocks, American Stocks
20  LateModels, Sport Mods, Mini Stocks, Mini, Dwarfs, NMRA – JackFM NIGHT
27  Modifieds, Hobby Stocks, American Stocks, Ford Focus
August
3  Modifieds, Sport Mods, Mini Stocks, Mini Dwarfs – FREE COKE NIGHT
10  LateModels, Hobby Stocks, American Stocks, HARD TOPS –1-800LoanMart Series – JackFM NIGHT
17  Sport Mods, Street Stocks, American Stocks, Mini Dwarfs, LMods
24  Modifieds, Hobby Stocks, Mini Stocks, NMRA – MONSTER ENERGY NIGHT
31  LateModels, Sport Mods, American Stocks,  Mini Dwarfs – KUZZ FM107.9 NIGHT
September
7  Sprint Cars, Hobby Stocks, American Stocks, Mini Stocks
14  Modifieds, Sport Mods, Street Stocks, NMRA, CDCRA, Mini Dwarfs – JackFM NIGHT
21   USAC Midgets, Ford Focus, Hobby Stocks, Mini Stocks, HARD TOPS
28  Modifieds, Sport Mods,  American Stocks, Mini Dwarfs, CLS
October
5    DARK  NO RACING
11  28th Annual Bud Nationals – Late Models, Modifieds, Sport Mods, Hobby Stocks, American Stocks
12  28th Annual Bud Nationals –  Late Models, Modifieds, Sport Mods, Hobby Stocks, Street Stocks – JackFM NIGHT