Bakersfield Speedway welcomes Motor City GMC
bakersfield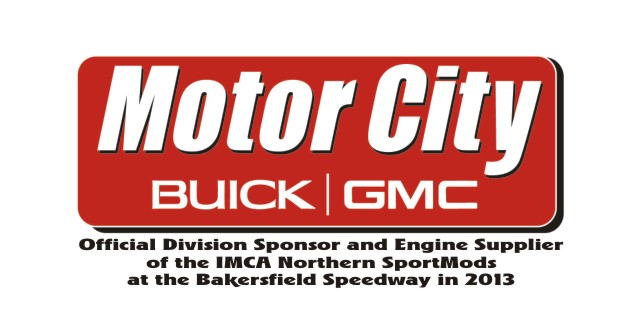 MOTOR CITY BUICK/GMC SPONSORS THE IMCA NORTHERN SPORTMODS AT BAKERSFIELD
By Bakersfield Speedway Media
BAKERSFIELD, CA – February 12, 2013…Bakersfield Speedway is excited to announce a new partnership for the 2013 race season as opening night of the new season is just around the corner. Motor City Buick/GMC, California's Largest Volume Buick/GMC Dealer has signed on at the Bakersfield Speedway as the official division sponsor and engine supplier of the IMCA Northern SportMods. Motor City Buick/GMC general manager John Pitre states "Motor City is excited to partner with the Bakersfield Speedway and to be the official sponsor of the IMCA Northern SportMod division. And with that … the SportMods engine of choice is the GM 602 crate engine which we have available right here at Motor City"
The Northern SportMod class is one of the fastest growing divisions at the Speedway in the last two years. Bakersfield Speedway was also the first track in the western United States to sanction the division with IMCA. Since then, more tracks have followed Bakersfield Speedway's lead and added the division to their event schedule.
Motor City's involvement doesn't stop with just sponsoring the division. They will add additional money to all 22 finishing positions of the main event at each SportMod event in 2013. And to not stop there, an extra bonus will be offered to the top 3 finishers if your SportMod is powered by the GM 602 crate motor purchased from Motor City Buick/GMC.
"I can't express how excited I am to be partnering with Motor City. They are passionate about racing and it show's just how much with what they are offering to the racers this season. Sponsoring the division, adding to all spots in the purse and a bonus for running their motor is a win win for everybody out here" stated Bakersfield Speedway owner Scott Schweitzer.
The 2013 race season kick's in to gear at the "West's Fastest High Banked Clay Oval" Saturday night March 2nd. The 32 event season concludes with the running of the 28th Annual Budweiser Nationals October 11th & 12th. The Motor City GMC SportMods make the season debut March 9th and will do battle 16 times throughout the 2013 season.
For more information on any Motor City Buick/GMC products visit them at 3101 Pacheco Road Bakersfield, CA. 93313 or www.motorcitygmc.net  for racers looking to get your GM crate motor, contact motor specialist Keith Adams at (855) 538-9534 or (661) 735-4990
For complete Bakersfield Speedway rules, schedules and event information (661) 393-3373 or www.bakersfieldspeedway.com