Daly passes Bartels, wins Late Model
bakersfield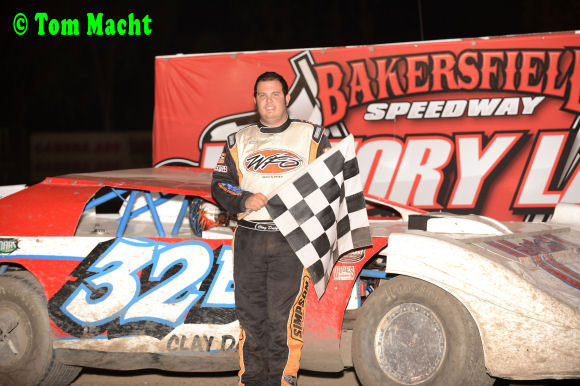 BY STEPHEN LYNCH Special to The Californian
It took a little more than half of Saturday night's 30-lap Late Model feature at Bakersfield Speedway for Clay Daly to work his way to the front. Once he got there, it was see-you-later time.
The Watsonville driver passed Ron Bartels on lap 17 and then cruised to an easy victory.
Bartels led the first 16 laps and finished second.
Tommy Malcolm was third, followed by John Lowry and Mike Johnson.
Daly stalked Bartels closely for several laps around the third-mile clay oval before making his move, darting inside of Bartels going into turn three and then edging past him as they crossed the flagstand. Daly finally completed the pass in turn one.
"I wasn't really sure how I was going to get around Ron," Daly said. "He was flying. It was a gamble to go into (turn one) low but I knew once his nose disappeared, as long as I kept her barred-up I could slide-job him."
An opportunistic Jimmy Irwin won a caution-filled Hobby Stock main event.
Irwin grabbed the point on lap 11 when then-leader Ryan Daves bobbled in turn four. Irwin never looked back, rolling to his fourth feature victory of 2012.
Prior to Irwin's winning move, Daves led for seven laps. Daves got to the front on lap four with a perfectly executed slide-job to go underneath and past 78-year old Ralph Cooke.
Kevin Irwin, Jimmy's son, finished second. Daves was third. Jared Schweitzer came home fourth and Mike Malcolm was fifth.
In Mini Stock action, Kyle Hood continued his hot streak, winning a second straight feature.
Hood, who battled flu like systems earlier in the week, passed pole-sitter Billy Lay for the lead with four laps to go and then pulled away.
Doug Shepherd was second, followed by Gary Spiller Jr., Darren Sherman and Stacy Evans.
"The car was fast," Hood said. "I was just on it the whole way."
Lay started on the pole and led the first 16 laps of the 20 lap race. But Hood, who started sixth, was the fastest car on the track and steadily reeled him in. Finally, on lap 17, Hood powered around Lay on the outside. Just as he did, Lay's car let out a puff of smoke and he had to exit the racing surface with an apparent mechanical issue.
Cameron McCauley of West Lake Village outdueled Tyler Bannister to win the 15-lap Senior Mini Dwarf A-main.
McCauley took over the lead with a third-lap pass of Kaylyn Baker and then held off a hard-charging Bannister during the closing few circuits.
Joseph Snyder finished third. Jeremy Clark took fourth and Brylon Holder was fifth.
Anthony Balcazar, winner of the division's previous two main events, left the track midway through the race with a broken left side suspension.
The win was the second of the year for McCauley, who took over the points lead from Balcazar.
Andrew Orlando narrowly held off Gavin Manning to claim victory in the 12-lap Junior Mini Dwarf feature.
After a late restart, Orlando kept his car glued low on the track and in turn Manning behind him.
Paige Minor took the initial green flag and led until on lap six she slowed down to avoid running into the back of lap-traffic and was passed by Orlando.
Manning, Kaden Cochrun, Carter Enos and Riley Terry took second, third, fourth and fifth, respectively.