Decker tops Hogge to win Shootout
bakersfield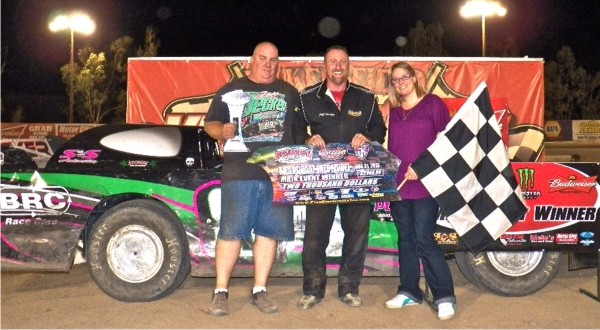 BY MIKE GRIFFITH Californian staff writer mgriffith@bakersfield.com
The raced certainly lived up the series name: Saturday night's West Coast Late Model Shootout at Bakersfield Speedway was just that — a shoot out. Jeff Decker and Bobby Hogge staged a dramatic side-by-side battle for the win over the final 10 laps with Decker, who led all but one lap, beating Hogge by a half car in the 30-lap race. Right behind them five other cars were locked in a tight battle as well with Bakersfield's Rob Sanders coming all the way from the 13th starting position to finish third. Clay Daly was a close fourth with Tommy Malcom fifth. Decker started on the pole and quickly moved into the high groove where he moved a few car lengths ahead of the field, which was waging a great battle for position behind him. But by the midway point, drivers were divided on whether to run the higher or the low groove. The high groove was a tick faster, but the only way to make a pass was to try the low groove and that's what Hogge did, edging ahead to lead the 23rd lap by about six inches. The lead changed hands multiple times during the remaining laps, but Decker was ahead each time at the start finish line. "I want to thank Bobby Hogge — he gave me a couple of pointers tonight, maybe he shouldn't have," Decker said with a chuckle. "It was awesome. There was just enough of a top groove to keep the car there." Hogge said his car did not work that well up high or in the middle so he settled for the bottom. "Hats off to Jeff," he said. "He drove an excellent race. If Jeff had made one bobble I would have got him."
Jared Schweitzer raced to his second Sports Mod victory of the season and edged a bit farther ahead of John Piker in the championship race. Schweitzer, who started 10th, took the lead on the 13th lap of the 25-lap feature by using the low groove to get past Jordan Hagar. Schweitzer came into the race leading John Piker by a point and now has a four-point edge with two races remaining. "I didn't think the bottom would be too good," he said. "I was kind of forced down there and this thing was a rocket ship," he said. "What an awesome night." Piker, who started ninth, spun on lap 10 and restarted the race at the rear of the field. He made a strong run in the closing laps to finish fourth, cutting his points loss. "We lost the brakes on lap three, a right rear brake caliper broke," he said. "We had to be real careful and I found a way to roll around the top of the track." Darrell Hood was second with Wayne Dotson third. Hagar finished fifth.
Brian Childress powered into the lead on the second lap and led the rest of the way to win the 20-lap American Stock feature. Childress had almost a full straightaway lead midway though the race when a caution brought him back to the pack. That proved to be no problem for Childress, who simply motored away to win by several car lengths. "This was a rocket ship tonight," he said. Johnny Wood finished second and it was a three-car battle for third with Ethan Dotson getting that position, about a foot ahead of Tyler Irwin. Points leader Matt Lewis was a close fifth.
Anthony Balcazar took the lead from Joe Snyder on the ninth lap and led the rest of the way to win the 15-lap Senior Mini Dwarf feature. The victory, his division leading third of the season, moved him two points ahead of Snyder in the championship race. Snyder held on for second with Trenton Millard third. Kabe McClenny edged past Kyleigh Forster with six laps to go and held on to win the 12-lap junior Mini Dwarf feature. Forster battled back but came up a half-car short. Troy Morris III, who led the first four laps before spinning, fought back and finished a close third.