Faria perfect in sprint car races
bakersfield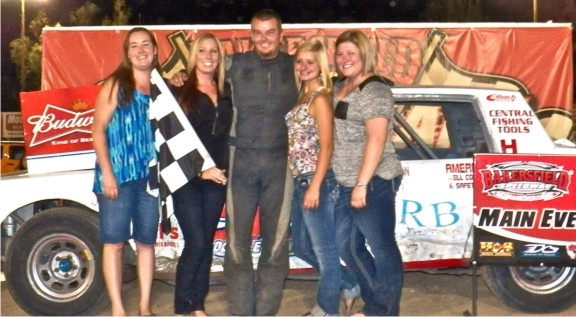 By STEPHEN LYNCH, Special to The Californian
Based on the results, Danny Faria Jr. was perfect at Bakersfield Speedway. The Tipton driver, nicknamed "Hollywood," went won all three of the USAC West Coast Sprint Car races on the third-mile clay oval Saturday night. After winning his heat and the division's Trophy Dash, Faria capped off his big night by lead all 35 laps of the sprint car feature race. Faria came into the night first in the USAC West Coast Sprint Car points, 21 markers ahead of Ryan Bernal, who didn't compete this time around. Bud Kaeding finished second. Richard Vander Weerd was third and Jace Vander Weerd was fourth. "That's was fun," Faria said.
Chad Johnson edged his younger brother, Steven, by a bumper to win the 25-lap Hobby Stock A-main event. Johnson passed 79-year-old Ralph Cooke for the lead with 15 laps left and looked to be on his way to a comfortable victory. But the race's fifth caution flag came out with three laps remaining, setting up a battle to see which of the Johnson brothers would nab the checkered flag. Cooke was third followed by Matt Wankum and Lloyd Wren, Jr. "I don't know if I want to give this guy any more secrets," Chad Johnson said of his brother. "One more lap he definitely would have had me. I was hanging on. "I was on the gas, wasn't letting off until we go past the line. I don't know if he slipped up a little bit there but I got him by a fender there at the end." By holding on to first, Chad Johnson, the division's points-leader, now has six feature wins this year.
Matt Lewis went from last on the starting grid to win a thrilling 20-lap American Stock feature. Lewis, the division's points leader and defending track champion, quickly worked his way toward the front of the 11-car field and then passed Marcus Wankum for the lead just after a lap eight restart. Later, he narrowly held off Johnny Wood and Brian Childress during a green-white-checkered finish to claim his fifth A-main victory of the year. "That was a fun race," Lewis said. "They really caught me off-guard the last lap there. After that yellow (flag) I wasn't sure who was behind me and how they were doing and stuff like that. The track, as slick as it was, I figured it was better to take it easy. They almost got me because I was taking it easy." Wood was second followed by Childress, Eric Silvius, and Tyler Irwin.
Billy Winchester passed Darren Sherman with five laps to go to win the 15-lap Mini Stock A-main event. "I just pinned it," an extremely excited Winchester said from Victory Lane after his first win of the year. Sherman, who led a race-high seven laps, held on to take second. Tori Sivesind was third. Series points-leader Gary Spiller led for two laps before having a right front tire go down. He overcame that bit of bad luck to finish fourth, and Brock Crawford came home in fifth.
Before any of main events took place, all four divisions held Trophy Dashes. Those races were won by Sherman (Mini Stocks), Childress (American Stocks), Steven Johnson (Hobby Stocks), and Danny Faria, Jr. (USAC West Coast Sprint Cars).