Gardner grabs USAC Midget main Saturday at Speedway
bakersfield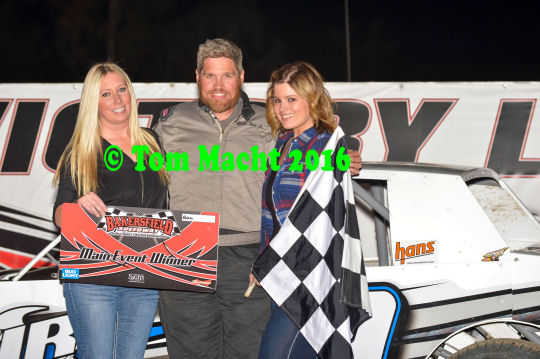 Speedway Media, BAKERSFIELD, CA. (April 30, 2016) – Defending champion Ronnie Gardner took the lead with three laps to go and went on to win the USAC Western States Midget feature on Saturday night at Bakersfield Speedway.
While the Corona native bested the USAC Midget field, other Bakersfield Speedway winners included Dakota Brown in American Stocks, Mike Hill Jr  in Hobby Stock, Steve Roark in Mini Stocks, Charlie Caraccilo in CA Lightning Sprints and Jake Andreotti in USAC Micro Sprints.
25 USAC Midgets checked in Saturday for their second appearance at the Speedway. Gardner passed Michael Faccinto on lap 28. Faccinto, who led the first 27 laps, finished second. Terry Nichols of Delano was third, followed by Alex Schutte and Tyler Dolacki.
Sean Dodenhoff of Bakersfield, Gardner and Darren Hagen won heat races. Faccinto topped the 25-car field in qualifying at 13.036 seconds.
In H&S Body Works Hobby Stock action, Mike Hill Jr. raced to victory in the Hobby Stock feature in a field of 23 cars, making it four different winners through the first four races. Kevin Collier was second with Chad Johnson third.
Johasee Rebar American Stock point leader Dakota Brown raced to victory in that division, becoming the fourth different winner in as many races. Brandon Ratcliff was second and Tyler Johnson third.
Coca-Cola Mini Stocks returned for their second time in as many weeks with Steve Roark of Bakersfield racing to his first win of the season. Andy Boydstun was second and Kylie Conway third.
Charlie Caraccilo won the California Lightning Sprint main event which featured 18 cars from the southern CA based traveling division. Also in action for the first time at the Bakersfield Speedway was the USAC Micro Sprint division. Jake Andreotti came away getting the feature win. The division will visit the Speedway a couple more times in the 2016 race season.
Action continues at the Bakersfield Speedway this Saturday night, May 7th, featuring the Mid Cal Fabrication IMCA Modifieds, H&S Body Works Hobby Stocks, Central Valley Tanks IMCA Stock Cars, Johasee Rebar American Stocks and the Diamond IT Mod Lites.
Bakersfield Speedway would like to thank its major marketing partners: Budweiser, Advance Beverage, Coca-Cola, Monster Energy, Motor City GMC, Johasee Rebar, West Air Gases, H&S Body Works, Diamond IT, Central Valley Tanks, RealFast.tv, Mid-Cal Fabrication, Hungry Hunter Restaurant, Del Taco and Cowboy Bail Bonds.
For more information, you can visit Bakersfield speedway online at www.bakersfieldspeedway.com or call the event info line at (661) 393-3373. Like us on Facebook and follow us on Twitter and Instgram for race updates all season.