Go Kart, Mini Dwarfs, QRC Sprints and .25 Midgets return Sunday
bakersfield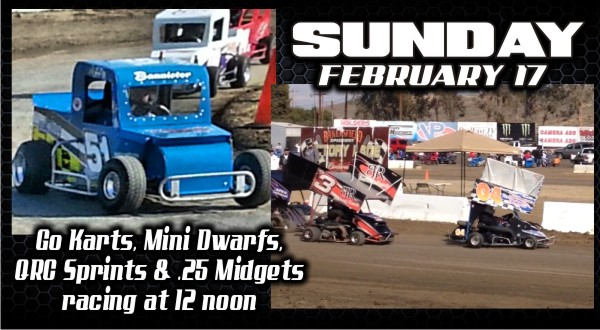 Gokarts, Mini Dwarfs, QRC Outlaw Sprints & .25 Midgets return this Sunday February 17th to the Bakersfield Speedway.
Pit gates open @ 10am.
Drivers meeting @ 11am.
Racing to follow
Grandstands are FREE to watch.
6 lap hot lap sessions
2- 10 lap heat races
20 lap Main Event
for everyone.
All types of small cars/karts welcome. We will find or make a division for you.
Kart & Driver $35
Pit passes $5
Rules:
Helmet.
Gloves.
Long sleeves.
Pants.
Shoes.
Muffler.
Full exhaust wrap.
Full chain & Clutch cover.
Full length rear bumper.
Chris Kearns
805-714-8538
chrisk.usa@gmail.com