Impressive start for Pounds at Speedway opener
bakersfield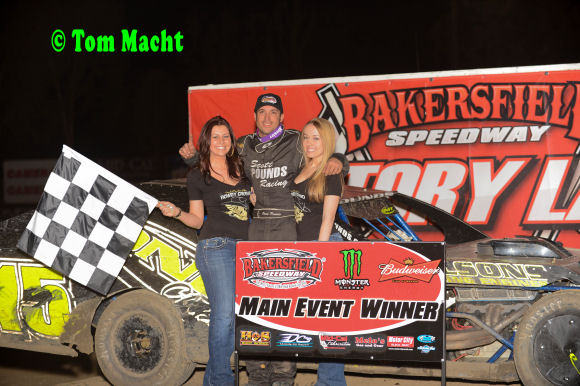 BY MIKE GRIFFITH Californian staff writer mgriffith@bakersfield.com
Starting 12th in a 17-car IMCA Modified field was only a slight handicap for Bakersfield's Brad Pounds. Pounds passed Josh Vogt with five laps to go then powered away to open the 68th season of racing at Bakersfield Speedway with a victory. The final five laps were easy. The first 20 were tough for all the drivers, who set a furious pace around the third-mile clay oval. "Man, I had one helluva a hot rod tonight," an excited Pounds said after leaping from his car in victory lane. "It was great." Pounds had tried to get by Vogt a couple of time on the low side but Vogt held tight there and Pounds had just one option: go high. "I bobbled a little bit getting into one, just a little slip and he capitalized," said Vogt, who was the California state champ last season. "I wanted to win but I guess second isn't hat bad." Pounds, who won the Bakersfield Speedway last year, said he wasn't worried abut making a pass on the high side. "I knew the top was there, (Kyle) Heckman ran on top. I knew I had to get around (Vogt) real quick or Heckman might have gone around both of us." Jay Marks finished third, Roger Holder fourth and Heckman fifth.
The Hobby Stock feature was wild from start to finish and even though he wound up in victory lane, Steven Johnson hard a hard time celebrating. That's because he was running third heading into the final turn when he watched his brother, Tyler, who was heading to victory, get turned around by a hard-charging Ricky Childress. As those two went spinning, Steven Johnson drove around and got the the checkered flag first in the 25-lap event. "You always want to win on opening night (but) I didn't have anything for Ricky or Tyler," he said. As for the final lap incident? "Man, that's just uncalled for but I did come away with the win." Childress led from laps six through16 before he drifted a bit high in turn four and got passed by Steven Johnson and Tyler Johnson. Childress came storming back, getting past Steven Johnson the 20th and setting his sights on Tyler Johnson, who had powered out to a large lead. Childress caught Tyler Johnson on the backstretch of the final lap and got into him in the final turn Chad Johnson, oldest of the Johnson brothers, finished second; Garth Zander was third ad Lloyd Wren Jr. fourth. Tyler Johnson came home fifth.
Don Mead showed up for a practice at Bakersfield Speedway last Saturday with a new car. It performed so poorly he went back to his old car. That proved to the the right move. Mead powered past Matt Wankum with five laps remaining and went on to win the 20-lap American Stock feature, his first-ever win. "It feels real good right now," Mead said. "We put a lot of work into this car." As for the car he had a week ago: "I sold that to Mark Irwin," he said. "Good luck with it, buddy." Defending American Stock champion Matt Lewis led the first seven laps but his cars stalled just as he was coming to the green flag for a restart on lap eight. Wankum got around Mike Hill on the ninth lap and led until Mead, who pressured him for several laps, finally got around by moving to the high side and powering past him with a strong run out of turn two on the 16th lap. A caution with five laps remaining put Jacob Shepherd in position to win the 20-lap Mini Stock feature and he did just that.
Gary Spiller led from the start of the race and had a several car length advantage over over Shepherd when a caution bunched the field with five laps remaining. Shepherd good a good run on Spiller on the restart and had the lead on the 16th laps. He led the rest of the way as Spiller had to settle for second.
"This is actually my first win ever and I've been racing out here for five years," he said. "I'm pretty happy."
Johnny Wood was third, followed by Billy Winchester and Tina Wheeler.