Johnson claims Hobby Stock win
bakersfield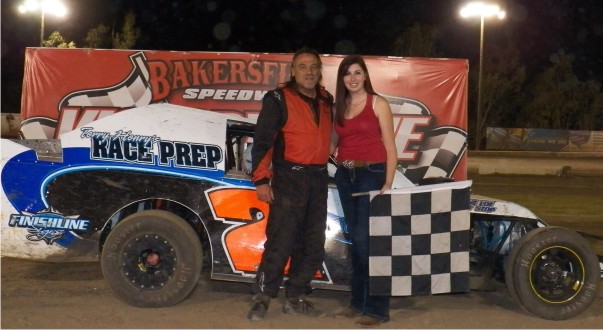 BY MIKE GRIFFITH California staff writer mgriffith@bakersfield.com
Chad Johnson celebrated his fourth Hobby Stock victory Saturday night at Bakersfield Speedway while Ryan Reed was just happy to finish.
Johnson's win came on the JDRF Night at the third-mile clay oval as Reed, though his non-profit organization, Ryan's Mission, was raising money and awareness for JDRF. Reed, a type 1 diabetic, is a rookie on the ARCA racing season and was making his first start on dirt.
Johnson and point leader Jimmy Irwin bumped and rubbed in a battle for the lead midway point of the 25-lap race and that was foremost on John's mind afterward.
"I'm sure he thought I didn't give him enough room when I got by him in then four (on lap 13) but I had plenty of room and he turned down on me," Johnson said.
Johnson shot into the lead at that point as Irwin fought to keep from spinning as he darted through the infield and gave chase.
Johnson kept Irwin at bay, except for three cautions, during which Irwin apparently expressed his displeasure to Johnson.
Irwin, the points leader, finished second, followed by Tyler Johnson, Perrin Kootstra and Steven Johnson.
As for Reed, he ran near the back of the field, doing a 360-spin on the second lap before finding his rhythm.
"It was a lot different, but I had a lot of fun and kept the car in one piece and that's what it was all about," he said of his dirt-track experience. "I'm looking forward to next year."
Robby Sawyer raced to his second straight victory in IMCA Modified action.
Sawyer inherited the lead on the 19th lap after second-running Rick Childress Jr. got into the back of leader Joey Yantis, causing both cars to spin.
Once in the lead Sawyer pulled away from the field. Justin Schweitzer was second with Brad Pounds third.
There was one fast way around in the 25-lap Sport Mod feature — the bottom groove — and Darrell Hood was practically glued to that portion of the track
Hood moved into the lead of the eighth lap and stayed there the rest of the way for his third win as he extended his points lead over Robbie Witwer.
David Childress came close making a pass, putting on heavy pressure until spinning with two laps left.
Taylor Paddock finished second, followed by Nick Spainhoward, Loren DeArmond and Jordan Hagar.
Brian Childress ended a stretch of tough races with a victory in the 20-lap American Stock feature, his second of the season.
"We've just had a (tough) year," said Childress. "Just bad luck."
Other drivers suffered bad luck this time out, which helped Childress take the lead on lap 14. He was not challenged after that, winning by several car lengths.
Dale Fry Sr. was second, followed by Scott Cason, Traci Childress and points leader Matt Lewis.
Doug Shepherd raced to his fourth win of the season in the 20-lap Mini Stock feature and moved within two points of Darren Sherman in the championship battle.
Shepherd passed Gary Spiller with five laps remaining then held off Spiller in a two-lap dash to the checkered flag following a late caution.
Kyle Hood, who won the last two races, finished third with Sherman fourth.
Jarrett Kramer of Spring Valley passed Dan Hilberg on the final lap to win the 20-lap "Civil War" feature between the Californian Lightning Springs and BCRA Sprints.
Hilberg led most of the race but was caught by Kramer in traffic as the white flag fell. Hilberg took the high line in turn three, Kramer went low and took the lead as the tow headed into turn four. Dakota Albright finished third.