Laney takes Make A Wish Night
bakersfield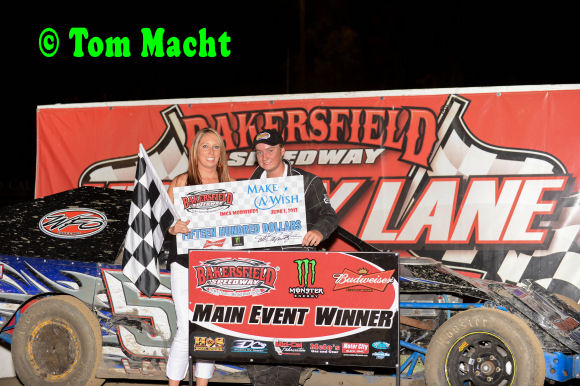 BY MIKE GRIFFITH Californian staff writer
Cody Laney didn't tear his car up battling for the lead and that was the difference Saturday night in the 30-lap IMCA Modified feature at Bakersfield Speedway. Laney took the lead with six laps left and right after he did his top three competitors ended up making contact, ending their chance for victory. Laney then led the rest of the way as the 17-year old from Torrance raced to his first ever victory. Laney darted low to get past Robby Sawyer for the lead in turn four on the 20th lap and that proved to be the winning move. "It was pretty tough," he said. "I didn't know if I would be able to get by Sawyer. I made a couple of mistakes but was able to get past." Two turns later, the complexion of the race changed. Sawyer and Larry Hood got together exiting turn two with Hood doing a 180-spin, which caught the read of hard-charging Brad Pounds' car. Hood was forced to restart to at the rear of the field, Sawyer stayed in second but had left-front suspension damage which slowed him and Pounds was sent off the track to take car of a couple of pieces of strapping that was dragging on the track and part of his rear body work was ripped away. Laney led the rest of the way, but nearly took himself out with a couple of laps to go when he banged into the turn four wall. "I hit it pretty hard, I thought I was done," he said. But there was only cosmetic damage and Laney finished several car lengths ahead of runner-up Jay Marks. Roger Holder was third, followed by Larry Wise and Sawyer.
Chad Johnson raced to his third straight victory in Hobby Stock competition and took over the points lead. Johnson started in the fourth row and was running second 13 laps into the 25-lapper. Austin Manzella, who started from the outside of the front row and took the lead at the drop of the green flag, had nearly a full straight lead when a caution on lap 17 brought him back to the field ad into Johnson's clutches. Manzella did his best to keep Johnson at bay after the race restarted, but Johnson dove low into turn three then slid up in front of Manzella to take the lead on the 21st lap. A slowing Manzella was unable to make it off the track with a lap to go, setting up a one-lap dash to the checkered flag, but Johnson easily pulled away for the win. I tell you what, regardless of how it looks, it's never easy," Johnson said of the win. "There's a lot of fast cars in this class. Austin put on an excellent race." Lloyd Wren Jr. finished second followed by Steven Johnson, Ralph Cooke and Perrin Kootstra.
Scott Cason could stay with leader Matt Lewis as the laps wound down in the 20-lap American Stock feature, but didn't figure he had the power to pass. Then the two came up on slower traffic. Cason went high in turn three, Lewis hesitated then dove in low as they sandwiched Charles Morrison. Carson and Morrison made contact and Carson spun in turn four as Cason raced into the lead with three laps to go. Cason led the rest of the way for his first win of the season. "I knew with the lapper (Morrison) it was 50-50," Cason said of his chances of getting the lead. "That was total luck there. That lapper worked perfectly." Eric Silvius finished second, Ethan Dotson third with Lewis coming in fourth.
Joe Snyder nudged his way past points leader Jeremy Clark in the final corner for his first victory in the Senior Mini Dwarf division. Andrew Orlando finished second with Clark third. Kabe McLenny raced to his second victory in the Junior Mini Dwarf Division and climbed to within six points of points leader Troy Morris Jr., who finished second.