Larry Hood wins third IMCA feature at Speedway
bakersfield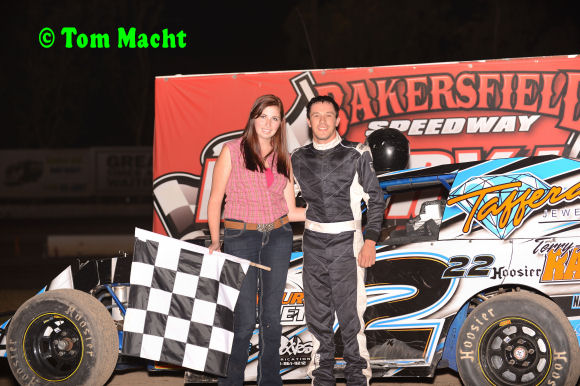 BY MIKE GRIFFITH Californian staff writer mgriffith@bakersfield.com
It took Larry Hood eight laps to edge past leader Lee Jensen in a dramatic side-by-side duel Saturday night at Bakersfield Speedway, but once he did there was no catching him.
After putting his bumper ahead of Jensen to start the 16th lap, Hood sailed clear on the following lap and pulled away for his third IMCA feature of the year.
"First of all, Terry Henry — what an awesome race car he put under me tonight," Hood said of the man who prepares his car. "I think me and Lee Jenson put on a heck of a race."
That they did in the 25-lap event.
Jensen, making his third start, took the lead on the third lap and had the car glued to the bottom of the track. Hood quickly moved into second, but did so using the high groove.
It took Hood a few laps to catch Jensen then the eight laps to get past him.
"I think the car is a little faster than I am at this point," said Jensen who finished second. "But we had a heck of a race with Larry."
Points leader Brad Pounds finished third, followed by Robby Sawyer and Kyle Heckman.
Right after the Modified feature, Lee Jensen jumped into a Hobby Stock, led most of the way, then had to settle for another runner-up finish.
Defending track champion Steven Johnson caught Jensen, who had led from the outset, with five laps to, tired then high side, then moved in right behind Jensen.
Johnson then gave Jensen a couple of bumps, which moved Jenson off the bottom groove and opened the door for Johnson to take the lead with three laps left in the 25-lap race.
Jensen battled back on the next lap, briefly moved inside Johnson, but slipped back and had to settle for second.
"He was fast," Johnson said of Jensen. "I tried the high side, it didn't work, so I moved down behind him. I tried to race him as clean as I could."
Chad Johnson finished third, Eric Cimental was fourth and Dylan Hagar fifth.
Darrel Hood had the IMCA Sports Mod championship locked up when the 25-lap feature started.
But he wanted to go out with a win.
He did just that, going past a spinning Joe Baker in turn three on the final lap for his fourth win. Baker led more than 24 ½ laps.
"It's time to celebrate," said Hood, father of Larry. "This is a great class."
Eric Brust was second and Nick Spainhoward fourth.
Dylan Baker led all 20 laps en route to his first Mini Stock feature win. Baker led by more than a full straight at one point and was never challenged.
Kyle Hood finished second, just holding off four-time winner Doug Shepherd, who moved into the points lead, four points ahead of Darren Sherman who placed sixth.
One race remains to decide the championship.
Andrew Orlando extended his points lead by driving to his second victory in the Junior Mini Dwarf feature. Orlando holds a commanding 16-point lead (eight positions on the track) with one race remaining. In Senior Mini Dwarf action, Anthony Balcazar raced to his series-leading sixth victory.