Malcolm wins Inaugural Richie McGowan Memorial race
bakersfield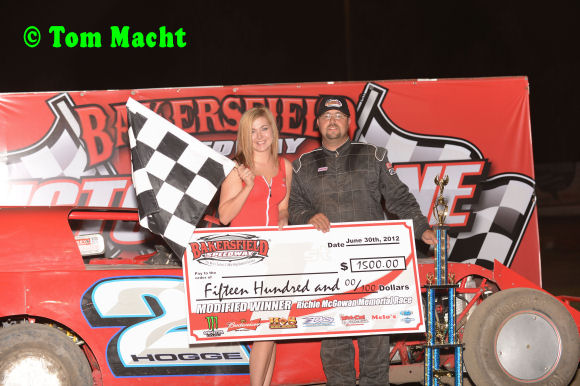 By Matt Martz Special to The Californian The Bakersfield Californian
One of the top competitors in the Hobby Stock division, Norco's Johnny Malcolm reeled in Bakersfield's Clint Reichenback on lap 23 of the 32-lap Inaugural Richie McGowan Memorial, and held on for the win in front of a jam-packed Bakersfield Speedway on Saturday night.
Malcolm's win earned him a check for $600.
He took third in his heat before capturing the 32-lap feature after starting in second position and held off hard-charging second-place finisher Chad Johnson.
"It was really fast out there tonight," Malcolm said. "Clint (Reichenback) ran a good race all the way to the end."
Reichenback led the first 22 laps before tagging the outside retaining wall cutting his right rear tire.
Steven Johnson finished third. Eric Cimental was fourth and Ryan Daves took fifth.
Just as in years past, Bakersfield Speedway's annual Salute to America Fireworks Extravaganza went off with a bang, but this year's event was much more poignant, as racing fans gathered to watch an aerial fireworks display meant to honor our nation's military heroes, as well as former Bakersfield racer Richie McGowan.
McGowan, who died on February 13, raced a variety of divisions at the track, including American Stocks, Hobby Stocks, Street Stocks, IMCA Modifieds and Sport Mods. He also sponsored and helped fund cars for several drivers.
McGowan's daughter, Tina, raced car No. 32 in honor of her father, starting strong in the first Hobby Stock heat of the night and muscling her way from a fifth-place start to a third-place finish and final transfer spot in the Hobby Stock main. She finished the night's featured race in seventh place.
Before the race, an emotional McGowan addressed the crowd thanking them for their support.
"This was my dad's passion and I feel so fortunate to have been able to share that with him," she said. "I am also happy that I can continue his passion for racing."
The 25-lap IMCA Modifieds feature began with pole-sitter Jason Bannister leading a menthol-burning freight train down the front stretch, but it would be Salinas' Bobby Hogge that led the first lap.
Hogge continued to lead until a caution on lap 24 forced a restart, and with Robby Sawyer on his rear bumper, came out of turn four on a rail to snatch the win.
Danny Lauer was third, while Kyle Heckman was fourth and Gary Dutton came across fifth.
In a caution-filled shortened Melo Gas and Gear 10-lap American Stock feature event, from the outside of row two, Bakersfield's Scott Cason swiped the lead on lap six and led what was remaining of a 22-car field, pulling away to the checkered flag.
After the third of six cautions, Cason, moved past Wasco's Markus Wankum on lap five to take the top spot, after Wankum blew a right rear tire that sent him into a spin coming out of turn three.
Dale Frye Jr. finished strong in second, followed by a solid run for third by Eric Silvius. Brian Childress and Kimee Earnshaw were fourth and fifth, respectively. Wankum and Frye were heat race winners.