Manzella turns rough ride into 1st Hobby Stock win
bakersfield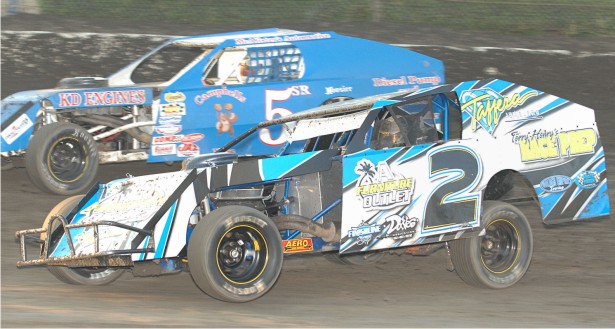 BY MIKE GRIFFITH Californian staff writer mgriffith@bakersfield.com
Austin Manzella ran over a bumper midway through the race, lost the lead with four laps to go and still emerged with his first Hobby Stock victory on Saturday night at Bakersfield.
Manzella took the lead when Ricky Childress, who ran over the dropped bumper first, cut a tire and ended up against the turn two wall on the 17th lap of the 25-lap race.
Manzella, 17, led the pack after the restart but four-time winner Chad Johnson closed the gap and took the lead in turn one on the 21st lap.
Two laps later Johnson bobbled in turn one and Manzella came out of turn two with a lead he did not relinquish.
"It feels good the be here," Manzella, who had not finished in the top five in seven previous races, said in Victory Lane. "I thought I was done when I hit that bumper and I really thought Chad had me there."
Johnson finished second with Ryan Daves third.
Jimmy Irwin got caught up in an early accident and finished 14th but it didn't matter as he had locked up the track championship before the night started.
Michael Johnson didn't compete in the IMCA Modified race due to a broken ankle suffered in a pit accident a few weeks ago, but he emerged a winner. Drivers who missed no more than one race were eligible to win a new chassis donated by Mid Cal Fabrication and Johnson was the last driver standing (or sitting in his case) after a reverse drawing.
The feature race had not started by deadline.
Michael Black of Taft drove to victory in the 20-lap NMRA Three-Quarter Midget race for his first win at Bakersfield Speedway.
Black led the first three laps then fell to second behind Chuck West. But West flipped in turn four (he was OK) on the 14th lap, handing the lead back to Black who led the rest of the way in the 20-lapper.
West Evans finished second.
Bakersfield's Anthony Balcaza drove to his seventh feature victory of the season, but it wasn't enough to claim the Senior Mini Dwarf championship. That honor went to Cameron McCauley of Westlake Village, who won two features. McCauley was third in the final race.
Bobby Michnowicz passed Steven Limo in the final turn to win the California Lightning Sprint feature.
Gavin Manning raced to his second Junior Mini Dwarf victory of the season and Kabe McClenny emerged with the track championship. McClenny came into the race with a two-point lead over Carter Enos but was trailing Enos with four laps to go. But Enos flipped in turn four, ending his night and securing the title for McClenny.