Nation survives cautions to win Sport Mod main
bakersfield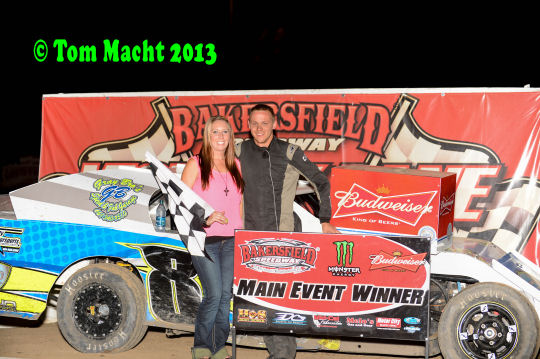 BY MIKE GRIFFITH Californian staff writer mgriffith@bakersfield.com
The Sport Mod drivers put on a pretty good demolition derby on Saturday night at Bakersfield Speedway. Too bad it was supposed to be a 25-lap feature on the third-mile clay oval. After more than 40 minutes of stop-and-go action, track officials shortened the race to 18 laps, with the last two laps a dash to the checkered flag following the eighth caution flag. And in a fitting finish, Jason Nation spun after taking the checkered flag as Cale Kanke made contact with him as the two drag raced to the finish off turn four. "I couldn't do it without Terry Henry," said Nation, who led every lap. "He's everything. He sets up the best cars out here." Kanke finished second for his best finish, with John Piker third. Kruz Griffith placed fourth and Tina McGowan fifth. There were two major pileup during the cars — a five-car wreck on the backstraight on the fifth lap which briefly brought out the red flag — and a four car pileup blocking turn four on the 14th lap.
The Late Model feature was no completed at press time.
Doug Shepherd used a strong run on the high side of the track to come away with his second feature win in a 20-lap Mini Stock race. Chris Settlemire started on the outside of the front row and led the first 19 laps. Settlemire, Gary Spiller and Shepherd were three-wide in turn one to start the final lap and as they headed down the backstraight Shepherd shot into the lead with Spiller in second. Spiller just held off Settlemire at the finish to take second. "I figured out I was able to carry a lot more speed up high," Shepherd said of his wining move. "You couldn't ask for more fun out there."
Jerry Flippo led only one the lap but it was the one that counted — the final one — as he came away with the victory in the 15-lap senior Mini Dwarf feature. Gavin Maning was second and Kaden Cockrun third. Anthony Balcazar and Trenton Millard spun while battling for the lead on lap 14, giving the lead to Flippo for a one-lap shootout on the subsequent restart.
In junior Mini Dwarf action, Kyleigh Forster raced to her second straight win. Kabe McClenny was second in the 12-lap feature with Troy Morris III third.