Oregon's Glaser makes most of travel, winning Late Model feature
bakersfield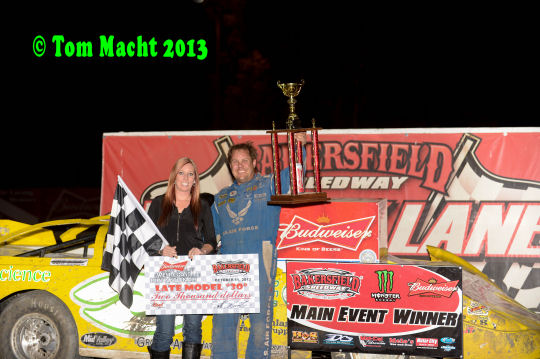 BY MIKE GRIFFITH Californian staff writer mgriffith@bakersfield.com
The 28th annual Budweiser West Coast Nationals started its two-day run at Bakersfield Speedway on Friday night in impressive fashion as 155 cars were in the pits, the largest car count in several years. Trevor Glaser made the trek from Tangent, Ore., pay off as he drove to victory in the 30-lap Late Model feature. Glaser was running fourth when a caution bunched the field with eight laps to go. He used a strong run on the high side of the track to sail past three drivers running low and move into second behind behind Jessie Stovall, who was also running high, on the 25th lap. Glaser was right behind Stovall when Stovall bobbled and nearly hit the turn two wall, opening the door for Glaser to take a lead he never lost. "He caught one of the ruts up there, I was lucky not to get into him," Glaser said. It was Stovall who gave Glaser the idea to run up high. "We were just so-so on the bottom and I wasn't going to pass those guys," he said. "I wanted to go up top, Stovall was making it work, so on the restart I jumped up there and I got clear." Clay Daly of Watsonville finished second, followed by Nick Bartels, Jeremy Shank and Stovall, who made the trek from Missouri. "We've won the Friday night race before but we've never won the Saturday night race," said Glaser, already looking forward to tonight's 50-lapper. "We're just trying to finish the season on a high note and we have one more chance." Shank, Dean Moore, Glaser and Cody Barnett won heat races with Bobby Hogge and Ronnie Bartels driving to victory in B mains.
Hogge of Salinas sailed around the top of track to come away with victory in the 30-lap IMCA feature, edging out Kellen Chadwick in a dramatic duel. Hogge had to get to the feature through a B main and started 15th. But he was was running fifth midway through the race. He went from fifth to second in one lap — the 17th — and took the lead from Cody Laney six laps later. While Hogge was finding success up high, Chadwick's car worked best on the bottom and edged ahead of Hogge on lap 26. Hogge led by inches on the next lap and the two stayed side-by-side — one high, one low — until the finish. Hogge led by less than a half car each lap, until shooting out to win by two car lengths on the final lap. "He's one of the best in in the state," Hogge said of Chadwick. "We both ran as hard as we could on both sides of the track." Hogge tried to run the bottom to keep Chadwick at bay following a caution on the 22nds lap but sailed back up the track, giving Chadwick a shot at victory. "I could tell his car was too tight to stay on the bottom," Chadwick said, noting he just could not get off the corners as well as Hogge was doing up high. Jay Marks of Bakersfield passed Laney out of turn four on the final lap to take third. Chis McKellar was fifth. McKellar, Chadwick, Laney and Marks won heat races. Larry Hood and Kenny Kirkpatrick won B-mains. The Modifieds run another 30-lap feature tonight.
Matt Lewis lost the lead midway through the American Stock feature but came from the rear of the field to win the 25-lapper. Lewis took the lead from Rich Tillema five laps into the race but the two tangled in turn two on the the 12th lap as Rich Denman sailed into the lead and most the field also went by. Lewis, who won this race last year, was sixth when a caution bunched the field on the 18th lap, setting up his drive to victory. He was third on lap 20 and moved into second on lap 22. Denman was running just above the low groove and Lewis stuck his car low as the two ran nearly side-by-side for two-plus laps before Lewis edged ahead with two laps to go to take the win. "I don't know what that was about over there," Lewis said of the incident with Tillema. "I was a little bit upset but we came back and got it done." Denman finished second, followed by Ryan Taylor, Scott Cason and Tillema.
The Hobby Stock division will run C and B mains tonight as well as a 30-lap feature which pays $1,200 to win. Chad Johnson, Robert Swearengin, James Cecil and Dakota Brow, making his first start in a Hobby Stock, won heat races on Friday night.
Sport Mod drivers ran heat races on Friday night with Jim DiGiovani of Morgan Hill and Bakersfield drivers Darrell Hood, Tina McGowan and David Childress driving to victory. A 30-lap feature race tonight pays $1,200 to win.