Pounds gets back on track at Bakersfield Speedway
bakersfield
BY MIKE GRIFFITH Californian staff writer mgriffith@bakersfield.com
Brad Pounds was back on top of his game Saturday night at Bakersfield Speedway.
Not that he was ever that far off. It's just that after starting with two straight wins, finishes of fifth and ninth weren't up to par.
So, armed with a new engine, the former track champion methodically worked his way through the field in a caution-filled race and after 25 laps he was back in a familiar spot — Victory Lane — in the IMCA Modified feature.
Pounds credited the new GM 604 Crate Motor for having just the right power for the dry/slick third-mile oval.
"At the beginning of the year we went to Arizona and three days in a a row we got our butts kicked by a crate motor," he said. "We've been trying to get one ever since."
Also aiding Pounds in his drive to victory was a series of cautions, which never let early leader Joey Yantis and those right behind him, to get away from the field.
Pounds, who started ninth, was fifth after 15 laps and five laps later he had the lead, powering around Yantis on the high side of the track.
"Everyone was running the bottom, you had to go high to drive around them," he said.
Robby Sawyer finished second, followed by Yantis, Larry Hood and Cody Laney.
Gary Dutton led wire-to-wire to win the 20-lap Street Stock feature.
Dutton started on the outside of the front row and was never challenged during the race. In fact, after the midway point there was only one pass for position among the top five drivers, that being Lee Jensen, driving a borrowed car, beating out Joey Claborn for fourth,
Brian Shepherd fell into second at the start and stayed there the entire race. Billy Simkins quickly worked his way to third and finished there.
Bobby Michnowicz of Lomita powered into the lead midway though the 20-lap California Lightning Sprint feature and held off Scott Kinney for the win.
"This is a new car and its really a handful," Michnowicz said. "This is a great series and I think I got a little lucky there. This is my favorite track to come to."
Doug Nunes finished third.
Jacob Shepherd became the first repeat winner in the Mini Stock division as he led all but the first two laps en route to victory in the 20-lap feature. Shepherd was never challenged, although he was chased by his dad, Doug, who finished about eight car lengths back.
Dylan Baker finished third, Tina Wheeler-Bell was fourth and Johnny Winchester move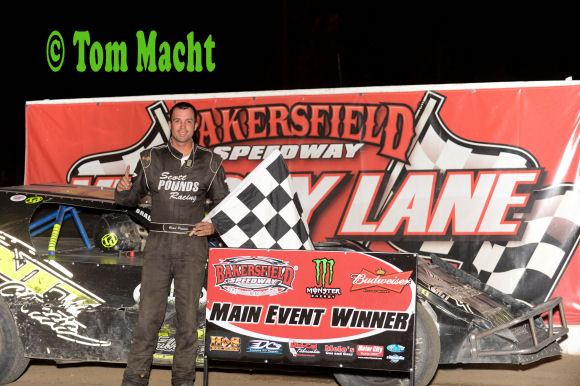 d into sole possession of the points led with a fifth-place finish.