Pounds victorious again at Budweiser Nationals
bakersfield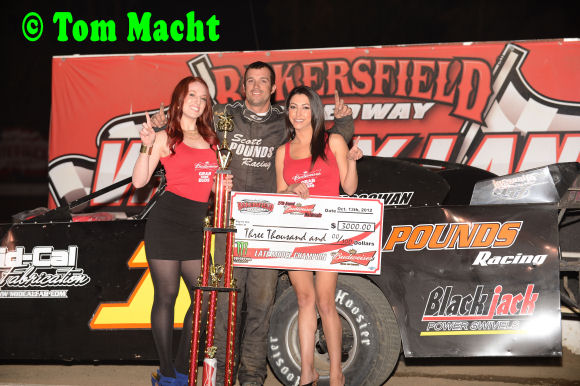 BY JEFF EVANS Californian staff writer jevans@bakersfield.com
Bakersfield's Brad Pounds made it wins in back-to-back years at the 27th annual Budweiser Nationals at Bakersfield Speedway late Saturday night.
Pounds, who won the 2011 IMCA Modifieds and Late Model main events in the Bud Nationals, dominated the final race at Bakersfield Speedway's season.
Pounds took the lead on the 11th lap of the 40-lap race and ran strong the rest of the way in the Late Model race, which ran with no yellow flags. Pounds easily moved around lapped cars and remained ahead of second-place finisher Jeremy Shank from Salem, Ore. Pounds and Shank ran 1-2 the final 29 laps.
Shank ran a solid race, but didn't have the power to overcome Pounds. Over the last several laps, three to four lapped cars between Pounds and Shank made it more difficult for Shank to make a final charge.
Pounds' win earned him the $3,000 first place prize.
Andy Obertello from Hollister was third and Ricky Thorton from Chandler, Ariz., placed fourth.
Larry Hood, shooting for a repeat win from Friday night, fell just short in the 40-lap IMCA Modifieds main event.
Hood led from laps 12-28 on Saturday after grabbing the lead from pole sitter Bryan Burns from Lemoore. But Bobby Hogge IV of Salinas, running low into turn 4 and showing explosive speed out of turn 2 on each lap, got past Hood on the 28th lap and had the horsepower to hold the lead, winning the $1,500 first-place prize.
Hood chose to run high into turn 4 on each lap while Hogge continued running low, and Hood couldn't catch him.
Hogge led early in Friday's IMCA Modifields race. "We had a great race last night," Hogge said. "It was no different tonight."
Kyle Heckman of Bakersfield was in contention for third until stalling out of turn 2 in the 35th lap. Roger Holder of Bakersfield finished third; Burns fourth.
Bakersfield racers won the other three main events Saturday. Gary Dutton won the Super Street 30-lap race, Chad Johnson the 30-lap Hobby Stock race and Nick Spainhoward the 25-lap IMCA Northern Sport Modified race.