Robby Sawyer earns his first A-main win of the season
bakersfield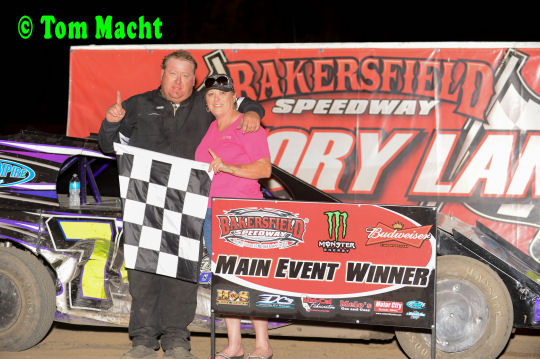 BY STEPHEN LYNCH Special to The Californian
With white smoke billowing from the back of his car, Robby Sawyer looked like he might not even finish the IMCA Modified feature race at Bakersfield Speedway. Turns out Sawyer was not only able to nurse his wounded car to the finish line, he was also the first one to get there. Despite suffering a mechanical issue with 10 laps remaining, Sawyer held off Justin Schweitzer for his first A-main victory of the season. Early on it looked like Sawyer would win the race easily, pulling out to a big lead on the third-mile clay oval. However, he began to slow down when the smoke began spewing from the car's rear end, allowing Schweitzer to close in. A late caution appeared to help Sawyer's cause as he sped away from the pack following a restart with four laps remaining. "It blew up with about 10 laps to go," Sawyer said. "I think we had a big enough lead that it put a cushion in-between us. Then, on the restart, I just drove in the middle of the track. I'm sure they were right there on my (tail). I just did what I could to hold them off." Larry Hood was third, followed by Roger Holder and Jay Marks. "It feels good to run second," Schweitzer said. "We kind of had a tough year so far but it looks like we're about to turn it around."
Gary Dutton led wire-to-wire in winning the 20-lap Super Street Stock A-main event. The multi-time former IMCA Modified track champion jumped out in front quickly and never looked back during the caution-free race. Dutton, whose biggest challenge was picking his way through lap traffic, ran the high line for most of the race. "It's kind of hard when you get out front, not knowing where everybody else is running," Dutton said. Lee Jensen took second. Brian Shepherd was third. Billy Simkins finished fourth and Lonnie Welch came home in fifth place.
Wayne Dotson cruised to an easy victory in the 25-lap IMCA Sports Mod feature. Dotson passed early leader Brylon Holder on lap 11 before winning by nearly a full straightaway. John Piker was second, followed by David Childress, Eric Manning, and Jared Schweitzer. "I appreciate Bakersfield (Speedway)," Dotson said. "Scott (Schweitzer) does a great job with this track. I enjoy racing here."
Angel Figueroa of El Segundo fought off a plethora of challengers en route to winning the 20-lap California Dwarf Car Racing Association A-main event. Figueroa who led 16 laps, was passed by a hard-charging Ronnie Williams with four laps remaining. But just after taking the white flag, Figueroa dove inside of Williams in turn two and edged ahead exiting onto the backstretch. The two drivers continued to battle it out for the last half lap. Devlin Autry of Bakersfield was third. "Ronnie's a real good driver," Figueroa said. "I just had to step up."
Tina Bell out-dueled Chris Settlemire to win an exciting 20-lap Mini Stock feature. Bell powered past Settlemire on the outside heading to the finish line to take the victory by half a car length. Toreigh Johnson was third and Gary Spiller Jr. took fourth. Settlemire, who led the first 19 laps, won his first-ever heat race win earlier in the evening. "I did all I could to stay off of him," Bell said of her last-lap pass. "I knew he would go low so I went high …" Bell briefly got by Settlemire for the lead on lap 15, roaring past him on the outside just moments after a restart. But Settlemire moved back in front before the lap was completed. Undeterred, Bell gunning for her first A-main win of the year, stayed on Settlemire's back bumper until making her final big surge heading into turn three of the final lap.