Vander Weerd sprints to victory at Speedway
bakersfield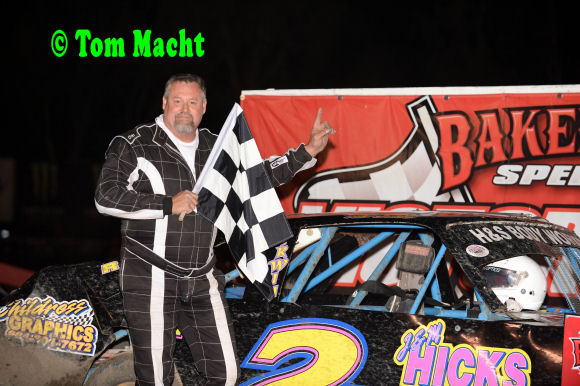 BY MIKE GRIFFITH Californian staff writer mgriffith@bakersfield.com
A look at the stat sheet might indicate Richard Vander Weerd had an easy run to victory Saturday night at Bakersfield Speedway. Hardly. Vander Weerd, of Visalia, started on the pole and led all but one lap around the third-mile clay oval to win the USAC West Coast Sprint Car 30-lap feature. "I kind of screwed up a couple of those restarts but luckily I was able to make it up," he said in Victory Lane. It was clear Vander Weerd was fast, but seven cautions — five in the first 10 laps — reeled him in every time he pulled away. His big break came after a third straight restart on the fourth lap when Danny Faria Jr. charged into the lead. But Faria spun in turn four on the next lap, handing the lead back to Vander Weerd, who held it the rest of they way. Late in the race Bud Kaeding closed in as Vander Weerd was having difficulty getting past slower traffic, and it looked like Kaeding might be able to make a run when a caution flew. That set up a two-lap dash to the checkered flag and, with a clear track, Vander Weerd sailed to victory. It was a one-groove track — down low — and that's where Vander Weerd stayed planted. "I knew it would be tough for anyone to get around me so I just tried to stay there," he said. It was more difficult behind him as Ryan Bernal, who won two races in Tulare last weekend, got past Kaeding on the final lap to finish second. Kaeding dropped to fourth but passed Jace Vander Weerd (twin brother of Richard) in the final corner to take third. Jace Vander Weerd finished fourth, with Rusty Carlise of Bakersfield, fifth. Bakersfield drivers Ricky Kirkbride and Matt Day won heat races as did Danny Faria of Tipton. Richard Vander Weerd also won the trophy dash. Marcus Niemela of Rauma, Finland, set a track record in qualifying with a lap of 12.890 seconds. The old mark was 13.012, set last March by Tracy Hines. Niemela showed early speed running high on the track but got into the wall between turns one and two while running third, ending his night after just three laps.
Jimmy Irwin could not be beat in Hobby Stock competition. Irwin started the night with a heat race win, followed that with a victory in the trophy dash and capped the night by driving to victory in the 25-lap feature. It was a close race for the first 12 laps as Chad Johnson paced the field, with Irwin and several other drivers in close pursuit. Irwin got his break, ironically, by a bobble of his own on the 12th lap, which allowed Ryan Daves to get a run down the backstretch. Daves followed Johnson high into turn three, Johnson slipped a bit and Irwin pulled ahead down low. After that, Irwin pulled away and ran unchallenged to the checkered flag. Steven Johnson finished second, with Chad Johnson third. Daves wound up fourth and 78-year old Ralph Cooke came home fifth.
Defending champion Matt Lewis started on the outside of the front row and led all 20 laps to win the 20-lap American Stock feature. Lewis was pressured the entire race by Ethan Dodson, who settled for second. Marcus Wankum finished a close third.