Wise takes IMCA Modified feature race, wire-to-wire
bakersfield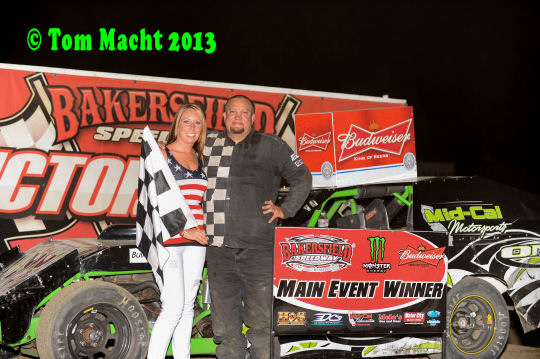 BY MIKE GRIFFITH Californian staff writer mgriffith@bakersfield.com
Larry Wise spent all of last week working on his IMCA Modified in an effort to make it faster. It showed on Saturday night at Bakersfield Speedway as Wise led from start to finish to win the IMCA Modified 25-lap feature on the third-mile clay oval. Starting up front proved to be the key as it was extremely difficult to pass as all the drivers were running the low groove. The victory brought a conclusion to the second annual Richie McGown Memorial race and a special payout gave $1,500 to Wise for the win. "I can afford to put a new body on it now," Wise said when it was brought to his attention that while the car was fast, it was a little beat up. "I worked my butt of on the car this week. I didn't worry about what the body looked like. This thing was a rocket ship." Robby Sawyer took second on the 10th lap and ran there there rest of the way for a runner-up finish. The top seven cars were running nearly nose-to-tail in line for the last five laps with the only pass coming in the last two laps when Bobby Hogge got by Larry Hood with two laps to go to take third. Hood, the track points leader, finished fourth with Clay Daly fifth, Roger Holder sixth and Brad Pounds seventh.
Without a doubt, Tina McGowan was the sentimental favorite Saturday night at Bakersfield Speedway. After all, there she was on the third-mile third mile oval in the No. 32 car of her late father, pacing the field for a lap prior to the start of the second annual Richie McGowan Memorial 32 for Hobby Stock feature. And when the race stared, she went from fourth to first before a lap was completed. She went on to lead the first 10 laps as well as laps 17 and 18. But, while running second during a caution after 20 laps had been completed, McGowan was forced to pit due to mechanical issues, ending her bid for victory on an emotional night. At the finish, it was Lloyd Wren Jr. holding off points leader Chad Johnson in a dramatic finish. Wren took the lead on the 29th lap and had to hold off a furious challenge from Johnson in a three-lap dash to the checkered flag following a restart. "As of 9 o'clock this morning we weren't racing, we didn't have the car even close to ready." Wren said. "I have to thank Marin Leist and my dad for helping get it ready. I couldn't be happier right now." Wren and Johnson were side-by side at the white flag and Wren got a slight advantage on the backstretch. He pinched Johnson low as the two entered turn three and won the drag race off turn four by a half car. McGowan said after the race that they had brake issues during a heat race and they cropped up again in the feature as all of the brakes were locked. Dale Frye was third, Ralph Cooke fourth and Cody Chambers fifth.
Lee Jensen caught Clay Daly with eight laps to go in the Street Stock feature. But catching isn't passing and Daly withstood the pressure to come away with the victory in the 25-lap race. "I opened up the bottom a couple of times and I saw his nose," Daly said. "I closed the bottom off and I knew he'd try up high." Jensen did just that, going high in the final two turns, but Daly got the better bite down low and won by a couple of car lengths. It was the second straight win for Daly, who drove to victory in Chowchilla on Friday night. Daly is a regular on the Late Model circuit "I've started off my birthday weekend pretty good, my birthday is (today)," Daly said. "It's awesome. I've never driven one of the Street Stocks before (Friday). Lonnie Welch was third followed by Billy Simkins.
Scott Cason led all but the first two laps in racing to victory in the 20-lap American Stock feature but he never felt comfortable. "I don't now what was going on behind me, but I didn't feel I could pull away," he said. I could hear and feel them." The win was the second of the year for Carson, who has competed in just five races. While his competitors were close enough to keep Cason on edge, they really weren't close enough to mount a challenge as Don Mead and Ethan Dotson battled side-side for the final few laps.  The two were trading paint in turn four on the final lap when Mead, on the inside nudged Dotson just enough to send Dotson up the track. That gave Mead clear sailing to a runner-up finish. Dotson gathered in his car and took third place by a bumper over points leader Matt Lewis. Teena Childress finished fifth.